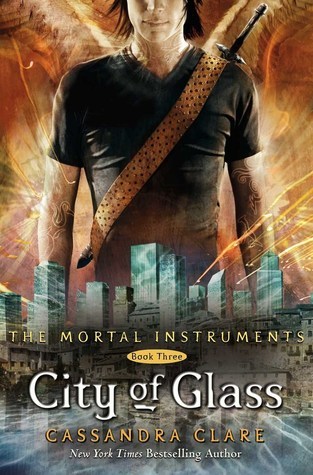 "

To save her mother's life, Clary must travel to the City of Glass, the ancestral home of the Shadowhunters – never mind that entering the city without permission is against the Law, and breaking the Law could mean death. To make things worse, she learns that Jace does not want her there, and Simon has been thrown in prison by the Shadowhunters, who are deeply suspicious of a vampire who can withstand sunlight.

As Clary uncovers more about her family's past, she finds an ally in mysterious Shadowhunter Sebastian. With Valentine mustering the full force of his power to destroy all Shadowhunters forever, their only chance to defeat him is to fight alongside their eternal enemies. But can Downworlders and Shadowhunters put aside their hatred to work together? While Jace realizes exactly how much he's willing to risk for Clary, can she harness her newfound powers to help save the Glass City – whatever the cost?

Love is a mortal sin and the secrets of the past prove deadly as Clary and Jace face down Valentine in the third installment of the New York Timesbestselling series The Mortal Instruments."
This is my favorite TMI book so far!  There is literally nothing that I didn't like.  So this will be a rather short and gushing review.
First off, I loved the dynamics between Clary and Jace.  It's awkward in the beginning and then in the middle they try to work past it and then THE END!  Yeah, that's right.
Next, I loved the ending in general.  
The battle was amazing, the Alliance rune that Clary creates is awesome, and how Luke and Jocelyn turn out together is fabulous!  It does make me wonder what is going to happen in the next one considering that they've been focused on stopping Valentine who is now dead.  Maybe Sebastian/Johnathon is really alive?
The humor I know and love came back partly in this one too!  Beautiful.  That's what makes the book for me!
It was a bit slow in the beginning but I don't think that could be helped much at all if you catch my drift.  With Jace being all "No, you're not coming Clary" and Clary saying "Oh yes I am!  I'm not a child!" it was kind of at a stalemate.  Sort of.
Anyway, I loved everything about this book and I really hope the rest are just as good because I wasn't particularly impressed by the first 2.  They were good (the first one bordering on great) but still.
Final Verdict:
So much better than the first two books and much more satisfying.  Magnus continues to be my favorite character and I totally ship him and Alec!  The ending was fabulous and I loved the dynamics between Clary and Jace!
5 stars
Quotes: WARNING: some spoilery quotes ahead!
"There is no pretending," Jace said with absolute clarity. "I love you, and I will love you until I die, and if there is life after that, I'll love you then." 
"And now I'm looking at you," he said, "and you're asking me if I still want you, as if I could stop loving you. As if I would want to give up the thing that makes me stronger than anything else ever has. I never dared give much of myself to anyone before – bits of myself to the Lightwoods, to Isabelle and Alec, but it took years to do it – but, Clary, since the first time I saw you, I have belonged to you completely. I still do. If you want me." 
"And I'm suppose to sit by while you date boys and fall in love with someone else, get married…?" His voice tightened. "And meanwhile, I'll die a little bit more every day, watching." 
"I am a man" he told her, "and men do not consume pink beverages. Get thee gone woman, and bring me something brown." 
"
Malachi scowled. "I don't remember the Clave inviting you into the Glass City, Magnus Bane."
"They didn't," Magnus said. "Your wards are down."
"Really?" the Consul's voice dripped sarcasm. "I hadn't noticed."
Magnus looked concerned. "That's terrible. Someone should have told you." He glanced at Luke. "Tell him the wards are down." 
"Is this the part where you say if I hurt her, you'll kill me?"
"No" Simon said, "If you hurt Clary she's quite capable of killing you herself. Possibly with a variety of weapons." 
"You said you were going for a walk!? What kind of walk takes six hours?"
"A long one?" 
"People aren't born good or bad. Maybe they're born with tendencies either way, but its the way you live your life that matters."