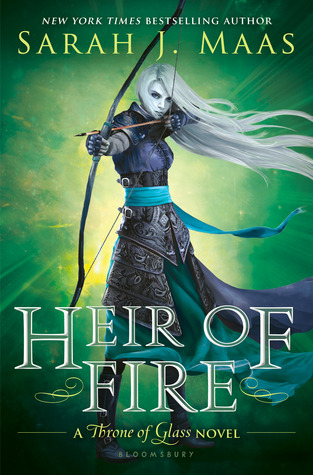 "

Lost and broken, Celaena Sardothien's only thought is to avenge the savage death of her dearest friend: as the King of Adarlan's Assassin, she is bound to serve this tyrant, but he will pay for what he did. Any hope Celaena has of destroying the king lies in answers to be found in Wendlyn. Sacrificing his future, Chaol, the Captain of the King's Guard, has sent Celaena there to protect her, but her darkest demons lay in that same place. If she can overcome them, she will be Adarlan's biggest threat – and his own toughest enemy.

 

While Celaena learns of her true destiny, and the eyes of Erilea are on Wendlyn, a brutal and beastly force is preparing to take to the skies. Will Celaena find the strength not only to win her own battles, but to fight a war that could pit her loyalties to her own people against those she has grown to love?"
Review:
This. Was. Epic.  Seriously.
Celaena underwent some serious character development in this book.  In the beginning, she was a scared, arrogant girl running from her past.  By the end, she was a strong woman, magically, physically, and spiritually, ready to face the King of Adarlan.  I LOVED the last line:
"She was Aelin Ashryver Galathynius – and she would not be afraid."
Wow.  Can I just say what an amazing ending that is??  Aaaaannnddd if you remember in previous books what she used to say… *smiles*
Anyway, I got this in the mail last Wednesday and started reading it last Friday.  The beginning was sort of difficult to get through mostly because it wasn't the action packed paragraph's I was used to with this series.  Ms. Maas took her time and delved deeper into the world and it's endless history.
Speaking of history, I did feel a bit off balance around the beginning of the end because of all the names that were being thrown around.  It's probably just because I haven't read the rest of the series in so long (I'll get on that!).
I do wish there had been a bit more on Sorcha.  It seemed like her and Dorian had this whirlwind romance that was created for the sole purpose of having a known rebel on the inside.
I also had some difficulties switching between the POV's.  Not because they weren't distinct voices (which they were by the way) but because I just found the other POV's (other than Celaena's) to be a bit boring.  There wasn't much happening with Chaol and Dorian although Manon's perspective was interesting to read and theorize about.  Yes Chaol and Dorian were up to some pretty important stuff… I just found it hard to read their perspectives.  I did like the multiple POV's though!
Now some of the good stuff!  I loved Celaena and Rowan's relationship.  I'm getting so sick of every single YA book that involves and trainer and student falling in love!  It was nice that they sparked a very close friendship but nothing more.  Celaena really just needs a friend right now after everything she's gone through and Rowan is doing a great job of helping her pick up the pieces.
As always, the complexity of the world and the world-building itself was magnificent.
Finally, the sheer size of this book took me by surprise at first but I seemed to fly through the pages.  It's also so nice to be reading a non-trilogy book for once.  It seems like that's all there is nowadays (at least the genres I frequent) so it's a nice change.  I can't wait for book four!!
The Final Verdict:
I really wanted to rate this one 5 stars but my difficulty reading the differing POV's, Sorcha and Dorian's relationship, and other small things all added up to one star.  The world-building, complexity, Celaena's character development, and the overall plot was excellent!
4 stars
Quotes: I tried to keep the spoilery quotes to a minimum (my favorite quote is actually the one hidden above because it's crazy spoilery).
"I claim you, Rowan Whitethorn. I don't care what you say and how much you protest. I claim you as my friend." 
"Their hands clasped between them, he whispered into her ear 'I claim you, too, Aelin Galathynius'."
"As for Celaena," he said again, "you do not have the right to wish she were not what she is. The only thing you have a right to do is decide whether you are her enemy or her friend." 
"You cannot pick and choose what parts of her to love."
"Chaol kept his sword drawn. "I will not go to Anielle," he growled. "And I will not serve you a moment longer. There is one true king in this room—­there always has been. And he is not sitting on that throne."
Dorian stiffened.
But Chaol went on. "There is a queen in the north, and she has already beaten you once. She will beat you again. And again. Because what she represents, and what your son represents, is what you fear most: hope. You cannot steal it, no matter how many you rip from their homes and enslave. And you cannot break it, no matter how many you murder." 
"Because I am lost," she whispered onto the earth. "And I do not know the way." 
"The people you love are just weapons that will be used against you." 
"You didn't need a weapon at all when you were born one." 
"It would not take a monster to destroy a monster – but light, light to drive out darkness." 
"All she knew was that whatever and whoever climbed out of that abyss of despair and grief would not be the same person who had plummeted in." 
"She was the heir of ash and fire, and she would bow to no one."