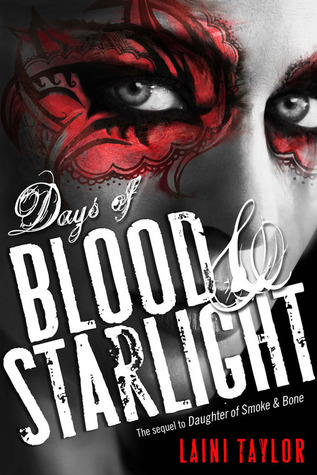 "

Once upon a time, an angel and a devil fell in love and dared to imagine a world free of bloodshed and war.

This is not that world.

Art student and monster's apprentice Karou finally has the answers she has always sought. She knows who she is—and what she is. But with this knowledge comes another truth she would give anything to undo: She loved the enemy and he betrayed her, and a world suffered for it.

In this stunning sequel to the highly acclaimed Daughter of Smoke & Bone, Karou must decide how far she'll go to avenge her people. Filled with heartbreak and beauty, secrets and impossible choices, Days of Blood & Starlight finds Karou and Akiva on opposing sides as an age-old war stirs back to life.

While Karou and her allies build a monstrous army in a land of dust and starlight, Akiva wages a different sort of battle: a battle for redemption. For hope.

But can any hope be salvaged from the ashes of their broken dream?"
Oh my freaking goodness.  This book was FANTABULOUS!  Literally.
I loved every single little thing about this book.  I definitely like it better than the first one (which is really unusual for me actually).  Let's start a list!  I've been loving lists lately 🙂
1.  The complicated politics.  YES.  No more is it just 'I love you!' 'but we're not the same!' 'I love you anyway!' Oh no big secret, yada yada yada.  This one is more big picture stuff about the actual war and how Karou and Akiva fit into that plan.
2.  Love isn't the easy answer.  It seems like a lot of YA books these days have the whole forbidden love thing… and then the two people are just like 'screw this, we'll be together!' and everything turns out fine.  This is so much more complicated than that!
3.  The problem/war was expanded near the end (I won't say anymore for fear of spoilers!).
4.  The last few chapters!  Nuff said.
5.  How it connects to today's issues about peace and equality and what it takes.  It's so relevant and true – amazing!
So yeah…  Oh, and I especially love the 'once upon a time' theme the author has going!
The Final Verdict:
This is just an all around, solid sequel that I liked better than the first book!  Everything about it was fabulous – I can't wait to read the next book!
5 stars
Quotes:
"A dream dirty and bruised is better than no dream at all." 
"Once upon a time, a girl lived in a sandcastle, making monsters to send through a hole in the sky." 
"Once upon a time, an angel and a devil fell in love and dared to imagine a new way of living—one without massacres and torn throats and bonfires of the fallen, without revenants or bastard armies or children ripped from their mothers' arms to take their turn in the killing and dying. 
Once, the lovers lay entwined in the moon's secret temple and dreamed of a world that was a like a jewel-box without a jewel—a paradise waiting for them to find it and fill it with their happiness. 
This was not that world."
"I am one of billions. I am stardust gathered fleetingly into form. I will be ungathered. The stardust will go on to be other things someday and I will be free." 
"It was brave," countered Issa. "It was rare. It was love, and it was beautiful." 
"Dead souls dream only of death. Small dreams for small men. It is life that expands to fill worlds. Life is your master, or death is" 
"Mercy, she had discovered, made mad alchemy: a drop of it could dilute a lake of hate." 
"You have only to begin, Lir. Mercy breeds mercy as slaughter breeds slaughter. We can't expect the world to be better than we make it." 
"Once upon a time, an angel and a devil held a wishbone between them. 
And its snap split the world in two."