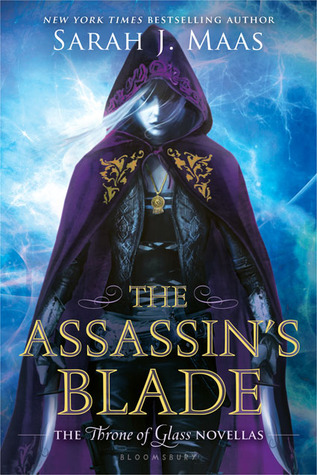 "Contains all five novellas.

Celaena Sardothien is Adarlan's most feared assassin. As part of the Assassin's Guild, her allegiance is to her master, Arobynn Hamel, yet Celaena listens to no one and trusts only her fellow killer-for-hire, Sam. In these action-packed novellas – together in one edition for the first time – Celaena embarks on five daring missions. They take her from remote islands to hostile deserts, where she fights to liberate slaves and seeks to avenge the tyrannous. But she is acting against Arobynn's orders and could suffer an unimaginable punishment for such treachery. Will Celaena ever be truly free? Explore the dark underworld of this kick-ass heroine to find out."
This book is heartbreaking.  I can't describe it any other way.  Seeing as I've read all the other books that have been released in this series, Celaena is one tough girl.  Having to go through everything she has.  I'm amazed she isn't crying in a corner!  It just shows how strong she is.  Reading those final chapters… wow.
I maintain my position that Sarah J. Maas is one of my favorite authors.  She can truly transport you to the world along with her characters and forge connections between you and them.
This book covers all those little things that are mentioned about Celaena's assassin past and her adventures.  You certainly don't have to read it to read the rest of the books but it is a very good addition to the series.  If you're wondering what exactly happened when she mentions in Crown of Midnight that she stole a stallion, this is the place to go!
It's also more of a solid prequel book rather than a collection of novellas.  I'd suggest buying this rather than the individual novellas (or borrowing from the library although the individual volumes aren't available in physical copies I'm pretty sure).  It makes a lot more sense.
As always, I loved reading from Celaena's perspective and I loved getting to know Sam after he was mentioned in
Throne of Glass
 and all the proceeding books.
The Final Verdict:
This is such an amazing book that gives you more details about Celaena's past and how she came to be where she is in Throne of Glass.  If you love this series, this book is a must read!
"If you can learn to endure pain, you can survive anything. Some people learn to embrace it- to love it. Some endure it through drowning it in sorrow, or by making themselves forget. Others turn it into anger." 
"There was no way in hell she was going to move to the southern continent without all of her books." 
"She would tuck Sam into her heart, a bright light for her to take out whenever things were darkest." 
"Life isn't easy, no matter where you are. You'll make choices you think are right, and then suffer for them." 
"This girl wasn't like wildfire – she was wildfire . Deadly and uncontrollable. And slightly out of her wits." 
"The girl who'd taken on a Pirate Lord and his entire island, the girl who'd stolen Asterion horses and raced along the beach in the Red Desert, the girl who'd sat on her own rooftop, watching the sun rise over Avery, the girl who'd felt alive with possibility…that girl was gone." 
"She was fire, she was darkness, she was dust and blood and shadow."