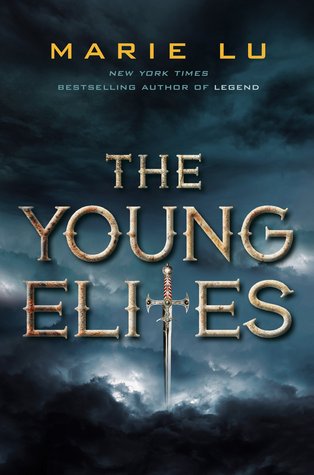 "

I am tired of being used, hurt, and cast aside.

Adelina Amouteru is a survivor of the blood fever. A decade ago, the deadly illness swept through her nation. Most of the infected perished, while many of the children who survived were left with strange markings. Adelina's black hair turned silver, her lashes went pale, and now she has only a jagged scar where her left eye once was. Her cruel father believes she is a malfetto, an abomination, ruining their family's good name and standing in the way of their fortune. But some of the fever's survivors are rumored to possess more than just scars—they are believed to have mysterious and powerful gifts, and though their identities remain secret, they have come to be called the Young Elites.

Teren Santoro works for the king. As Leader of the Inquisition Axis, it is his job to seek out the Young Elites, to destroy them before they destroy the nation. He believes the Young Elites to be dangerous and vengeful, but it's Teren who may possess the darkest secret of all.

Enzo Valenciano is a member of the Dagger Society. This secret sect of Young Elites seeks out others like them before the Inquisition Axis can. But when the Daggers find Adelina, they discover someone with powers like they've never seen.

Adelina wants to believe Enzo is on her side, and that Teren is the true enemy. But the lives of these three will collide in unexpected ways, as each fights a very different and personal battle. But of one thing they are all certain: Adelina has abilities that shouldn't belong in this world. A vengeful blackness in her heart. And a desire to destroy all who dare to cross her.

It is my turn to use. My turn to hurt."
This is one of the darkest books I've read… The heroine wasn't really the heroine at all.  She was both the good guy and the bad guy which really is all a matter of opinion.  I think that was the most fascinating part of this book for me.  Was how there are two points of view presented and they both have their faults and strengths.
As for Teren and Enzo, they're both excellent characters.  I didn't ship Adelina with either of them however.  And it's a good thing too because of that ENDING!  I can't even talk about it or I'll spoil it but rest assured, it's nothing you'll see coming!
I do wish there was just… more.  The world doesn't seem solid enough to me and the Dagger Society just seemed a bit fuzzy to me.  Maybe that'll be remedied in the next book!
Other than that I don't really have anything else to say!  It was a really good book (right up there with her Legend trilogy!) and I'm very interested to see where this takes Adelina.  It was such a quick read and I'll happily reread it over and over and over again!
The Final Verdict:
A very dark and sort of twisted book where right and wrong are slightly skewed.  I loved the main character's mindset in that she has this darkness which is so unlike other books I'v read.
4 stars
Quotes:
"Be true to yourself. But that's something everyone says and no one means. No one wants you to be yourself. They want you to be the version of yourself that they like." 
"It is pointless to believe what you see, if you only see what you believe." 
"Embellish your flaws. They will turn into your assets." 
"I pledge myself to the Rose Society until the end of my days, to use my eyes to see all that happens, my tongue to woo other to our side, my ears to hear every secret, my hands to crush my enemies. I will do everything in my power to destroy all who stand in my way." 
"Don't cry. You are stronger than that." 
"I am tired of being used, hurt, and cast aside. It is my turn to use. My turn to hurt." 
"Tomorrow, I will take on all of these things. I will be unstoppable." 
"Everyone has darkness inside them, however hidden."