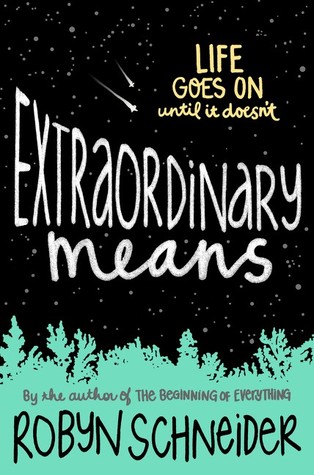 "From the author of The Beginning of Everything: two teens with a deadly disease fall in love on the brink of a cure.

At seventeen, overachieving Lane finds himself at Latham House, a sanatorium for teens suffering from an incurable strain of tuberculosis. Part hospital and part boarding school, Latham is a place of endless rules and confusing rituals, where it's easier to fail breakfast than it is to flunk French.

There, Lane encounters a girl he knew years ago. Instead of the shy loner he remembers, Sadie has transformed. At Latham, she is sarcastic, fearless, and utterly compelling. Her friends, a group of eccentric troublemakers, fascinate Lane, who has never stepped out of bounds his whole life. And as he gradually becomes one of them, Sadie shows him their secrets: how to steal internet, how to sneak into town, and how to disable the med sensors they must wear at all times.

But there are consequences to having secrets, particularly at Latham House. And as Lane and Sadie begin to fall in love and their group begins to fall sicker, their insular world threatens to come crashing down. 

Told in alternating points of view, Extraordinary Means is a darkly funny story about doomed friendships, first love, and the rare miracle of second chances."
So I've read one other book by Robyn Schneider: The Beginning of Everything.  Extraordinary Means definitely had that same kind of writing feel if you catch my drift.  This book is a member of the so-called 'sick lit' genre in that it centers around Lane who has total-drug-resistant tuberculosis.  Which isn't a thing.  Yet.
So let's get right down to it shall we?  My main complaint is that I felt like I didn't really know any of the characters.  The only reason I was upset when something terrible happens (actual two things happen) was because you don't want anyone to go through that you know?  I won't say what the event is but it's pretty major.  So yes, I cried at the end but it wasn't because I felt connected to the characters.  Don't get me wrong, I did understand the characters if anything but I just didn't know them.
With that aside, I liked pretty much everything else.  For instance, I loved the dual POV.  It was never confusing whose head you were in and I felt like the dual POV really helped the story along where it could have potentially dragged.  I also really liked the whole message of the book which is
living
.  Not just breathing and staying safe in your apocalypse bunker but laughing and crying and just living.  I feel like everyone can revert to just the motions sometimes and we forget how precious our lives really are.  And how fragile.  There's a character in this book named Charlie and he really realized that and he spends his days composing music because that was his life's work.  It was his way of living when he couldn't.
Just in general, I also really liked the whole group's dynamic.  Their jokes and weird ideas and things they did.  It lite up Lane's life and I loved that.
I'm not so sure about the ending though.  It was good… just a bit abrupt.  This tragic thing happens and then there's like a page more and it ends.  That's it.  I would have liked maybe a page or 2 more of Lane's life and how he carries on.
The Final Verdict:
A very nicely written book about the perils of safe living.  I loved the dynamic of Lane's friends and the whole message the book sends.  I would have liked a bit more padding on the end and I didn't really feel like I knew any of the characters well enough.
3.5 stars
Quotes:
"And the thing about trying to cheat death is that, in the end, you still lose." 
"Being temporary doesn't make something matter any less, because the point isn't for how long, the point is that it happened."
"That's all you can do in this world, no matter how strong the current beats against you, or how heavy your burden, or how tragic your love story. You keep going."