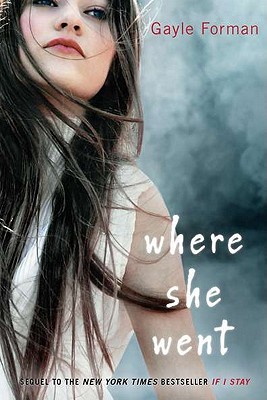 "

It's been three years since the devastating accident . . . three years since Mia walked out of Adam's life forever.
Now living on opposite coasts, Mia is Juilliard's rising star and Adam is LA tabloid fodder, thanks to his new rock star status and celebrity girlfriend. When Adam gets stuck in New York by himself, chance brings the couple together again, for one last night. As they explore the city that has become Mia's home, Adam and Mia revisit the past and open their hearts to the future – and each other.

Told from Adam's point of view in the spare, lyrical prose that defined If I Stay, Where She Went explores the devastation of grief, the promise of new hope, and the flame of rekindled romance."
Quite honestly, I liked this book so much better than the first one (If I Stay).  However, they both suffered from the same issue: disconnection.  I felt like I was totally disconnected from the characters and I was just watching from the outside.  Because of that, I didn't get as attached to the characters and as invested in their actions as I could have.  But let's get onto the good stuff, shall we?
On thing that I really liked was the characters in general.  While I did feel disconnected from them, I have to admit they are wonderful characters.  Mia and Adam are such different and eccentric people (as well as their friends) and every moment of their lives was interesting to me.  I also really liked the romance in this book.  It was cutesy but it was also seriously f***ed up.  Mia and Adam have some serious problems with their relationship and communication but somehow they work it out and, honestly, it wasn't cheesy at all!
I also really liked the theme of blame that was carried throughout the book.  Specifically, where to place blame and when to let it go.  That's the main thing that's holding Mia and Adam apart and they have to learn to accept their situation as it is and live in that experience.  It was really lovely to see them actually getting it all out there.
Kind of connected to that topic is the subject of suicide and exploring how different people deal with it.  I really liked how that was incorporated.  One of the characters has some serious issues to work through (trying to be subtle but I feel like it's totally obvious…) and seeing how it related to their life was wonderful.
The incorporation of Adam's band's songs in the chapters was really cool as well!  It paints a picture that regular speech just couldn't convey and rounds out the story nicely.
One last thing!  I loved the mystery behind the whole book and watching Mia and Adam slowly make their way back to each other.  We find out what happened to them during their years apart piece by piece and it was all revealed so perfectly!
Overall, Where She Went displayed excellent ideas and themes although I did feel disconnected from the characters.
"A day might be just twenty-four hours but sometimes getting through just one seems as impossible as scaling Everest." 
"I get it now. 
I have to make good on my promise. To let her go. To really let her go. 
To let us both go." 
"Hate me. Devastate me. Annihilate me. Re-create me. Re-create me. Won't you, won't you won't you re-create me." 
"You know, I thought about that a lot these last couple of years," She says in a choked voice. "About who was there for you. Who held your hand while you grieved for all that you'd lost?"
"But still, I find the need to remind myself of the temporariness of a day, to reassure myself that I got through yesterday, I'll get through today." 
"But I'd do it again. I know that now. I'd make that promise a thousand times over and lose her a thousand times over to have heard her play last night or to see her in the morning sunlight. Or even without that. Just to know that she's somewhere out there. Alive." 
"You were so busy trying to be my savior that you left me all alone." 
"I needed to hate someone and you're the one I love the most, so it fell on you." 
"Letting go. Everyone talks about it like it's the easiest thing. Unfurl your fingers one by one until your hand is open."