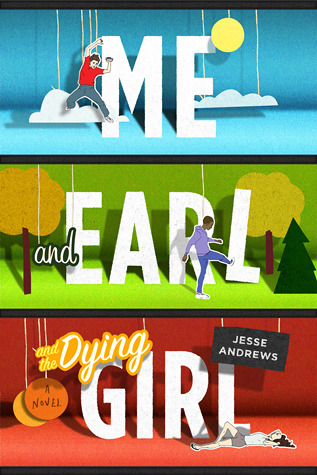 Goodreads Blurb:
"
Greg Gaines is the last master of high school espionage, able to disappear at will into any social environment. He has only one friend, Earl, and together they spend their time making movies, their own incomprehensible versions of Coppola and Herzog cult classics.

Until Greg's mother forces him to rekindle his childhood friendship with Rachel.

Rachel has been diagnosed with leukemia—-cue extreme adolescent awkwardness—-but a parental mandate has been issued and must be obeyed. When Rachel stops treatment, Greg and Earl decide the thing to do is to make a film for her, which turns into the Worst Film Ever Made and becomes a turning point in each of their lives.

And all at once Greg must abandon invisibility and stand in the spotlight."
Review:
I really, really wanted to like this book!  Everything sounded so great in the description!  And then I read the book.  Here's my thinking.
1.  The author's attitude.  So it's always great to have personality in writing right?  You should be able to tell something about the author based on their books.  However, I feel like this book went a little too far.  Constantly, in the book, the author would put himself down and would ask the reader why on earth they're reading the book and that they should just stop now while they're ahead.  And I could have handled that if something amazing happened at the end but nothing really did.  It was just this constant barrage of put-downs the author would say.  I could have accepted it if it happened at the beginning too but it just kept going right up until the end!
2.  The characters.  I actually did really like the characters.  They're the one selling point of this book.  They are all really witty and funny and different from each other which makes every dialogue scene a treat to read.  The way they interacted with each other is fabulous.
3.  The ending (and the point of it all).  This is the part that irked me the most.  You know how I said the author would constantly put himself down during the book?  Well he also said the book wouldn't have a point and that it wasn't worth reading because there was nothing philosophical about it at all and that it was just a story.  The thing is, there's meaning in everything and just because you wish it wasn't there, doesn't mean it doesn't exist.  I think the author was trying to say how we inject too much meaning into things and sometimes a story is just a story.  However, this wasn't that kind of story!  The whole point of books is that they hold meaning for the people who read them.  This book, being about befriending a dying girl because your mom forces you to and giving up your silence and standing for what you want to do and what you believe in: that's what this story is about.
4.  The plot.
  After all of that, I think the plot suffered.  It had potential, it really did.  But when the author constantly interrupts the plot and dilutes the meaning, it all just turned grey for me.
The Final Verdict:
In general, it seemed like the author was trying to be different but it went against everything that a book is supposed to stand for (for a good reason!).  While the characters were good and the plot had potential, the author's writing style and words just spoiled it all for me.
2 stars
Quotes:
"If after reading this book you come to my home and brutally murder me, I do not blame you."
"It's like when a kitten tries to bite something to death. The kitten clearly has the cold-blooded murderous instinct of a predator, but at the same time, it's this cute little kitten, and all you want to do is stuff it in a shoebox and shoot a video of it for grandmas to watch on YouTube." 
"One thing I've learned about people is that the easiest way to get them to like you is to shut up and let them do the talking."