I'm starting to do this again after a little hiatus called vacation.  I originally saw this on Jenni's blog (see her post
HERE
) and although I don't think the linky is still active, if you'd like, you can still make a post!  Just be sure to link back to Jenni!
Today's topic is:
a book you wanted to read for a long time but still haven't
Considering my TBR list is now 4,349 books long (I really need to go through it…), there are about 2,000 books I could list.  But here's the book I wish I had read a long time ago but it somehow slips my mind each time.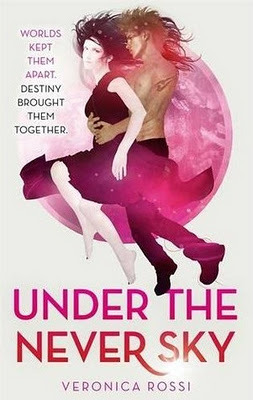 Under the Never Sky #1
Goodreads Blurb:
"
WORLDS KEPT THEM APART.
DESTINY BROUGHT THEM TOGETHER.

Aria has lived her whole life in the protected dome of Reverie. Her entire world confined to its spaces, she's never thought to dream of what lies beyond its doors. So when her mother goes missing, Aria knows her chances of surviving in the outer wasteland long enough to find her are slim.
Then Aria meets an outsider named Perry. He's searching for someone too. He's also wild – a savage – but might be her best hope at staying alive.
If they can survive, they are each other's best hope for finding answers."
Why I want to read this:
I've heard some pretty good things about this book!  I added it way back in 2013 and somehow, I still haven't gotten around to it!  It doesn't hurt that the cover is positively gorgeous.
Have you read this book?  What did you think of it?  What is a book that you wanted to read a long time ago but you still haven't gotten to?