Because this is me catching up, (see yesterday's post)  I don't believe Jenni has a linky up for this anymore.  However, if you'd like to join in, or get more information, visit Jenni's blog
HERE
.
Today's topic:
your favorite title(s)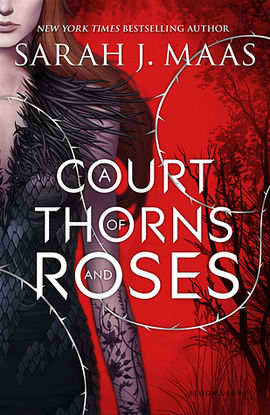 A Court of Thorns and Roses #1
Goodreads Blurb:
"
She stole a life. Now she must pay with her heart.
When nineteen-year-old huntress Feyre kills a wolf in the woods, a beast-like creature arrives to demand retribution. Dragged to a treacherous magical land she knows about only from legends, Feyre discovers that her captor is not an animal, but Tamlin—one of the lethal, immortal faeries who once ruled their world.
As she dwells on his estate, her feelings for Tamlin transform from icy hostility into a fiery passion that burns through every lie and warning she's been told about the beautiful, dangerous world of the Fae. But an ancient, wicked shadow over the faerie lands is growing, and Feyre must find a way to stop it . . . or doom Tamlin—and his world—forever."
Why I love the title:
This title tells so much about the series without giving anything away!  When I first read this book, I just thought it was a clever title, but after I read ACOMAF, I saw the thorns part!  Yes, thorns play a role in the first book, but it makes so much more sense when you read the second book!  I love titles that tell you a little bit of the story and give you little hints.
Goodreads Blurb:
"
Winner of the Pulitzer Prize
From the highly acclaimed, multiple award-winning Anthony Doerr, the beautiful, stunningly ambitious instant New York Times bestseller about a blind French girl and a German boy whose paths collide in occupied France as both try to survive the devastation of World War II.
Marie-Laure lives with her father in Paris near the Museum of Natural History, where he works as the master of its thousands of locks. When she is six, Marie-Laure goes blind and her father builds a perfect miniature of their neighborhood so she can memorize it by touch and navigate her way home. When she is twelve, the Nazis occupy Paris and father and daughter flee to the walled citadel of Saint-Malo, where Marie-Laure's reclusive great-uncle lives in a tall house by the sea. With them they carry what might be the museum's most valuable and dangerous jewel.
In a mining town in Germany, the orphan Werner grows up with his younger sister, enchanted by a crude radio they find. Werner becomes an expert at building and fixing these crucial new instruments, a talent that wins him a place at a brutal academy for Hitler Youth, then a special assignment to track the resistance. More and more aware of the human cost of his intelligence, Werner travels through the heart of the war and, finally, into Saint-Malo, where his story and Marie-Laure's converge.
Doerr's "stunning sense of physical detail and gorgeous metaphors" (San Francisco Chronicle) are dazzling. Deftly interweaving the lives of Marie-Laure and Werner, he illuminates the ways, against all odds, people try to be good to one another. Ten years in the writing, a National Book Award finalist, All the Light We Cannot See is a magnificent, deeply moving novel from a writer "whose sentences never fail to thrill" (Los Angeles Times)."
Why I love the title:
This title just has such a profound meaning in the book and you don't understand until you've read it!  It's all about the small acts of kindness and 'light' that you can't see with your eyes but are ever present in the world.  This is just such a beautiful book.
Goodreads Blurb:
"
The year is 490 AD. Fiery 16-year-old Elaine of Ascolat, the daughter of one of King Arthur's supporters, lives with her father on Arthur's base camp, the sole girl in a militaristic world of men.
Elaine's only girl companion is the mysterious Morgan, Arthur's older sister, but Elaine cannot tell Morgan her deepest secret: She is in love with Lancelot, Arthur's second-in-command. However, when yet another girl — the lovely Gwynivere– joins their world, Elaine is confronted with startling emotions of jealousy and rivalry. But can her love for Lancelot survive the birth of an empire?"
Why I love the title:
Again, this title plays into the plot so well!  The MC is referred to as a sparrow and this whole book is about her finding her voice and her place which is so amazing!