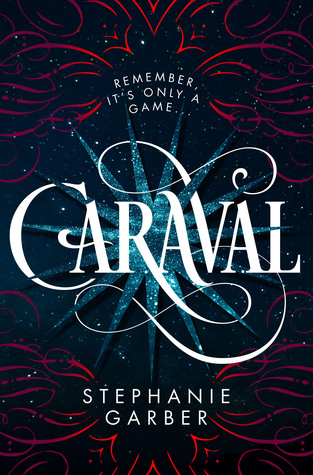 Caraval #1
Goodreads Blurb:
"
Remember, it's only a game…
Scarlett Dragna has never left the tiny island where she and her sister, Tella, live with their powerful, and cruel, father. Now Scarlett's father has arranged a marriage for her, and Scarlett thinks her dreams of seeing Caraval—the faraway, once-a-year performance where the audience participates in the show—are over.
But this year, Scarlett's long-dreamt-of invitation finally arrives. With the help of a mysterious sailor, Tella whisks Scarlett away to the show. Only, as soon as they arrive, Tella is kidnapped by Caraval's mastermind organizer, Legend. It turns out that this season's Caraval revolves around Tella, and whoever finds her first is the winner.
Scarlett has been told that everything that happens during Caraval is only an elaborate performance. Nevertheless she becomes enmeshed in a game of love, heartbreak, and magic. And whether Caraval is real or not, Scarlett must find Tella before the five nights of the game are over or a dangerous domino effect of consequences will be set off, and her beloved sister will disappear forever.
Welcome, welcome to Caraval…beware of getting swept too far away."
Review:
Upon finishing this book, I have very mixed feelings.
1.  The atmosphere.  I think this the element that truly stands out in this book.  You can feel the atmosphere of Caraval slinking off of the page and enveloping you as you are pulled deeper into the story, which is also the object of the game.  I constantly felt off balance and unsure which is something I haven't felt from a book in a long time.  There are so many different accounts and you don't know what to believe.  The world is just so utterly magical and takes on a flight of whimsy and danger.
2.  The characters.  The characters bleed into the same category above because of their elusive nature.  The characters all had a truly unique feel about them and they were all so, so memorable.  Scarlett and Tella have been through so much together and their character journey is fascinating.  When I first met Scarlett and Tella at the beginning of the novel, they were so different than what they ended as.  They both grow as characters so much and while I didn't truly love either of them as characters, they are all too real.  That slight dislike of the characters themselves fed into my feeling of dizziness and uncertainty which I think was brilliantly executed by the author.
3.  The plot.  The plot line was flawlessly developed.  There is an overarching plotline of getting to play the game of Caraval (which, interestingly, Scarlett doesn't know anything about in all the years she's wanted to play) which morphs into finding Tella which morphs into something else entirely at the end.  That transition was pulled off wonderfully and the book always had drive to it.  I did read this in a 3 hour stint, after all.
4.  The romance.  The selfish part of me hated the ending and Scarlett's decision.  I have to say, though, that the romance was quite lovely.  While I predicted it from the beginning (it's not hard to see coming if you know what you're looking for), there were some very nice extra twists brought in that shook things up a bit.  I do wish we could have learned more about the count and what he's actually like.  He showed so many different sides of himself, I wonder which side is his true self.
5.  The ending.  I feel it would be remiss if I didn't mention the ending.  I had forgotten that this was part of series.  I do think the next book will be wonderful, however, judging how this book left off.  It was sort of akin to the way ACOTAR left off: with that little bit of uncertainty.  Generally, I did enjoy the ending although the selfish part of me wanted something else.
This is a novel that keeps you guessing until the last page.  Throughout, I was plagued by a feeling of uncertainty and I consistently felt off-balance which I found to be a welcome, albeit strange, feeling.  A uniquely beautiful creation.
Quotes:
"No one is truly honest," Nigel answered. "Even if we don't lie to others, we often lie to ourselves. And the word good means different things to different people."
"She imagined loving him would feel like falling in love with darkness, frightening and consuming yet utterly beautiful when the stars came out."
"Every person has the power to change their fate if they are brave enough to fight for what they desire more than anything."
"Whatever you've heard about Caraval, it doesn't compare to the reality. It's more than just a game or performance. It's the closest you'll ever find yourself magic in this world."
Connect: