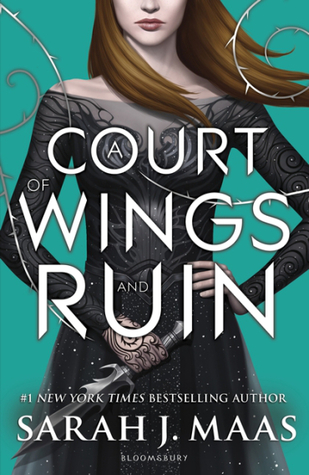 A Court of Thorns and Roses #3
"
Looming war threatens all Feyre holds dear in the third volume of the #1 New York Times bestselling A Court of Thorns and Roses series.
Feyre has returned to the Spring Court, determined to gather information on Tamlin's maneuverings and the invading king threatening to bring Prythian to its knees. But to do so she must play a deadly game of deceit-and one slip may spell doom not only for Feyre, but for her world as well.
As war bears down upon them all, Feyre must decide who to trust amongst the dazzling and lethal High Lords-and hunt for allies in unexpected places.
In this thrilling third book in the #1 New York Times bestselling series from Sarah J. Maas, the earth will be painted red as mighty armies grapple for power over the one thing that could destroy them all."
Whew!  That was so bittersweet.  This series has been my life for the past three years and now it's over just like that.  Of course SJM is slated to release more book in this world but it won't ever be the same without the MC's being the Court of Dreams.  I've enjoyed every minute, though.
1.  The characters.
  Once again, SJM does such a good job with character development. 
Every character is built up and they each have their own backgrounds that inspire their current actions
.  I especially loved seeing the dynamics between Feyre and her sisters as they explore this new relationship.  Feyre's relationship with everyone for that matter fascinated me.  Because it's the third book, a lot of the character development has been taken care of already but that didn't stop further development.  I loved seeing how Feyre would react in certain situations and with certain people, and Rhys' chapter at the end is EVERYTHING.
2.  The plot.
  This book is incredibly focused on the war which didn't leave much room for other plot lines.  There were a few secondary romance lines which were wonderful.  The author made certain not to let them overpower the main plot line which kept everything focused. 
I do have to say, it got a tad bit tedious after a while but I understand why the author chose to spend so much time on the war
.  It's an enormously large event in the world and it won't be cleared up with a few battles.  I think it was dealt with well, though.  Even though I wasn't able to read it all in one sitting (damn real-life responsibilities), I definitely could have if I were given the time!
3.  The romance(s).
  Obviously, there's Rhys and Feyre here as they're the main romance. 
I loved their dynamic and Rhys' attitude toward freedom and equality
.  He and Feyre have such an honest and giving relationship which I loved.  It think it's so important that men and women are viewed as equals in a relationship and in responsibilities.  The author also inserted some
LGBTQ
into the mix which I loved.  Diversity!!  Without giving anything away, some very important characters are gay and both the openness and hardships of the relationships were shown which I found to be very accurate. 
It isn't easy for people to come out if they go against the norm, even in fantasy worlds.
  I loved how it was still portrayed as a normal thing, though.  There are also some new romances introduced (or explored more as to the circumstances) and they were all developed wonderfully. 
No insta-love in sight.
4.  The writing

.  On one hand, I am completely in love with SJM's writing style

and her ability to insert both lyrical and harsh words into her novels.  As I said above, I could have read this book all in one sitting. 

However, I also said above that the plot became a teeny bit tedious.

  This was reflected in the writing.  I think the author

got just a bit too settled in and her writing fell into too much of a pattern

.  Another piece I want to mention pertains to the entire series.  It's a true testament to SJM's skill as she was

able to avoid middle-book syndrome

(where the middle book feels just like a stepping stone and is meh and the last book is only slightly better).  Each of the books in the series were equally enjoyable to me and I've loved every minute of this series.  There will certainly be many rereads to come.
5.  The world.
  I simply have to mention this.  We get a bit more of a look at the other courts in this book and I loved the glimpses.  While I do wish there was more (can there always be more??), the
world is incredibly immersive and wonderfully fleshed out.
  The writing pulls you in and the descriptive settings and customs keep you in.
A true and complete work of art.  The characters are remarkably complex, the plot, while tedious, is immersive, the world is wonderfully present, and the writing is spot on.
"We're all a broken, in our own ways – In places no one might see."
"I would have waited five hundred more years for you. A thousand years. And if this was all the time we were allowed to have… the wait was worth it."
"Why should I be scared of an oversized bat who likes to throw temper tantrums?"
"Night Triumphant- and the Stars Eternal."
"Remember that you are a wolf. And you cannot be caged."
"Only you can decide what breaks you, Cursebreaker. Only you."