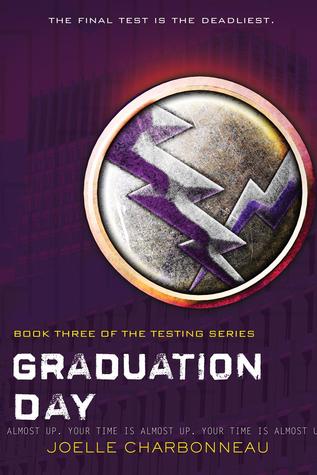 "

In book three of the Testing series, the United Commonwealth wants to eliminate the rebel alliance fighting to destroy The Testing for good. Cia is ready to lead the charge, but will her lethal classmates follow her into battle?

She wants to put an end to the Testing
In a scarred and brutal future, The United Commonwealth teeters on the brink of all-out civil war. The rebel resistance plots against a government that rules with cruelty and cunning. Gifted student and Testing survivor, Cia Vale, vows to fight.

But she can't do it alone.
This is the chance to lead that Cia has trained for – but who will follow? Plunging through layers of danger and deception, Cia must risk the lives of those she loves–and gamble on the loyalty of her lethal classmates.

Who can Cia trust?
The stakes are higher than ever-lives of promise cut short or fulfilled; a future ruled by fear or hope–in the electrifying conclusion to Joelle Charbonneau's epic Testing trilogy. Ready or not…it's Graduation Day.

The Final Test is the Deadliest!"
Overall, this was a pretty enjoyable series.  However, it isn't one of my favorite dystopian series'.
I loved the world that Ms. Charbonneau created.  The Stages of War added a lot of interest for me.  The world building was definitely something that she nailed in this series.
On the down side, I felt like it was just lacking in emotion.  I realize that Cia is a
very
 logical person but it was so cold and calculating.  That transferred into her relationship with Thomas.  They never seemed to be going anywhere with their relationship.  It's the reason why I'm actually glad that
Zeen died
.  He was one of my favorite characters but if someone didn't go who was close to Cia, the book would have lost the remaining meaning and feeling that it possessed.
That being said, I really liked the ending.  It didn't need anything extra added on like some dystopian books.  I was okay with Ms. Charbonneau leaving it where it was because you could reasonably wonder about what happened next.  It didn't feel like the ending was just cut off.  I also really liked the dynamics between Cia, the president, and Dr. Barnes at the end.  It tied in the tests from the first book which I really liked.
I do wish there had been more information on the
secret colony where the failed Testing subjects went
.  It seemed a little glossed over even though finding out where they went was a big part of the plot.
Final Verdict:
A pretty good read overall.  The logic was a bit overdone but the world-building and the ending were terrific.  This was a decent dystopian series although it's only mediocre to me.
3 stars
Quotes:
"People will believe the crisis is over because they want to believe their world is safe." 
"We can meet after dinner and go for a walk." He says with a smile. "After our disappearance into Tosu this weekend, everyone already assumes I have a crush on you. This will seal the deal."
"They don't know you very well, do they?"
Raffe's smile fades. "Not many people do."
A reminder that despite his having passed this test, neither do I.
Shaking off my concern, I return the list to my bag and slide the strap onto my shoulder. "I'll see you at dinner."
"Wait," Raffe says as I head for the door. He disappears again into his bedroom. When he returns he hands me the pulse radio test I designed. "You forgot this. I didn't listen to the message."
"I know." I take the device and carefully set it in my bag.
Raffe folds his arms over his chest and leans against the wall. "What would have happened if I had turned those switches?"
"The time to lead is now."
I'm leaving for vacation so I've taken the opportunity to schedule reviews for the next week and get all caught up.  I'll still be online to answer comments, just a little less than usual!