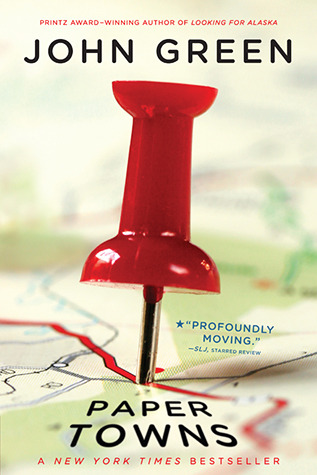 "

Quentin Jacobsen has spent a lifetime loving the magnificently adventurous Margo Roth Spiegelman from afar. So when she cracks open a window and climbs back into his life — dressed like a ninja and summoning him for an ingenious campaign of revenge — he follows.

After their all-nighter ends and a new day breaks, Q arrives at school to discover that Margo, always an enigma, has now become a mystery. But Q soon learns that there are clues — and they're for him. Urged down a disconnected path, the closer he gets, the less Q sees of the girl he thought he knew."
Thank you so much to my friend who loaned me her copy of Paper Towns – the waiting list at the library was horrendously long!
This book was so mysterious and so deep and just so amazing how it was written.  I love the connections to the paper towns and paper people and all that (if you've read it, you'll get it).  I've never heard of paper towns but that's pretty cool that they actually 'existed'!  The name is oddly appropriate.
I loved how the whole mystery began.  With that one night.  Margo is someone who isn't easy to figure out and Quentin has the privilege of joining her on her adventure.  Then she disappears without a trace until Quentin discovers some clues she left behind.  That's when the real hunt begins to find out who Margo really is.
The whole graduation fiasco was amazing.  How they just
left like that for their impromptu road trip to find her and had to calculate when to stop and all was brilliant
.  It added urgency but didn't make it too serious.  I also really liked the Omnicionary (I probably didn't spell that right AT ALL).  It's amazing how much information was on there!
A very thought-provoking read that was deep but not too deep to get lost in.  All the connections and the plotline was very well planned and intriguing.  It did get a bit slow in the middle and I had to push through though.
"What a treacherous thing to believe that a person is more than a person." 
"That's always seemed so ridiculous to me, that people want to be around someone because they're pretty. It's like picking your breakfeast cereals based on color instead of taste." 
"It is so hard to leave—until you leave. And then it is the easiest goddamned thing in the world." 
"When did we see each other face-to-face? Not until you saw into my cracks and I saw into yours. Before that, we were just looking at ideas of each other, like looking at your window shade but never seeing inside. But once the vessel cracks, the light can get in. The light can get out." 
"She loved mysteries so much that she became one."
"Tonight, darling, we are going to right a lot of wrongs. And we are going to wrong some rights. The first shall be last; the last shall be first; the meek shall do some earth-inheriting. But before we can radically reshape the world, we need to shop." 
"At some point, you gotta stop looking up at the sky, or one of these days you'll look back down and see that you floated away, too." 
"The town was paper, but the memories were not."