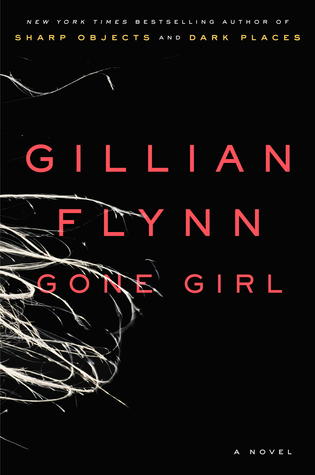 "

On a warm summer morning in North Carthage, Missouri, it is Nick and Amy Dunne's fifth wedding anniversary. Presents are being wrapped and reservations are being made when Nick's clever and beautiful wife disappears from their rented McMansion on the Mississippi River. Husband-of-the-Year Nick isn't doing himself any favors with cringe-worthy daydreams about the slope and shape of his wife's head, but passages from Amy's diary reveal the alpha-girl perfectionist could have put anyone dangerously on edge. Under mounting pressure from the police and the media–as well as Amy's fiercely doting parents–the town golden boy parades an endless series of lies, deceits, and inappropriate behavior. Nick is oddly evasive, and he's definitely bitter–but is he really a killer?

 

As the cops close in, every couple in town is soon wondering how well they know the one that they love. With his twin sister, Margo, at his side, Nick stands by his innocence. Trouble is, if Nick didn't do it, where is that beautiful wife? And what was in that silvery gift box hidden in the back of her bedroom closet?"
This was an excellent onion book.  It was truly fascinating to dive into Nick and especially Amy's minds.  Once you get to the end, Amy's logic is… well strange to say the least.  And it didn't have a fairy tale ending thank goodness.  I'm getting really tired of those.  This isn't a fluffy or light read.  For real.  It took me several days to read this which is like half a lifetime for me in terms of books.
It was a little drawn out and I found myself checking the page numbers periodically throughout the whole middle section.  The beginning and the end were really excited and mind-bending and crazy though so hang in there!
Back to the characters.  I loved everyone – Go, Nick, everyone.  But Amy was my favorite.  Not because she was likable but because of how developed her character is.  She has so many layers and reasons (no matter how twisted) for everything she does/did.  How it ended was especially fascinating to me.  Just the way that Amy was able to manipulate people was mind-blowing to me.  She took so much time and planning and was an expert liar.  I think, though, deep down, she really did want to be Amazing Amy.  From the way she acted, it was clear to me that she wanted it all to be perfect and to punish others for not being perfect.  Maybe the author didn't intend that and maybe she did.  However it happened, that's what kept me reading this book.
Final Verdict:
This was a very perplexing book which very well developed characters however it did tend to drag a bit in the middle.  Amazing onion book!
4 stars
Quotes:
"There's something disturbing about recalling a warm memory and feeling utterly cold." 
"Love makes you want to be a better man. But maybe love, real love, also gives you permission to just be the man you are." 
"There's a difference between really loving someone and loving the idea of her." 
"Friends see most of each other's flaws. Spouses see every awful last bit."
"A lot of people lacked that gift: knowing when to fuck off."
"My gosh, Nick, why are you so wonderful to me?' 
He was supposed to say: You deserve it. I love you.
But he said,'Because I feel sorry for you.' 
'Why?' 
'Because every morning you have to wake up and be you." 
"Because isn't that the point of every relationship: to be known by someone else, to be understood? He gets me. She gets me. Isn't that the simple magic phrase?"
"It's humbling, to become the very thing you once mocked." 
"It's a very difficult era in which to be a person, just a real, actual person, instead of a collection of personality traits selected from an endless Automat of characters."