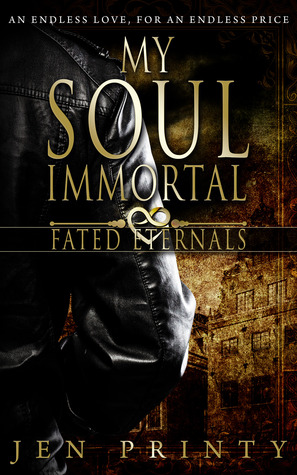 "

An endless love, for an endless price.

Jack's immortality is exposed when he prevents a liquor store heist, forcing him to flee to protect his secret—a secret not even he understands. But when he meets Leah Winters—a mirror image of his decades-lost love, Lydia—his very soul is laid bare. He begins to question his sanity. Is she real, and if so, what does that mean for Jack and his secret?

Jack's not the only mystery man in town. A stranger named Artagan hints at knowledge Jack is desperate to possess. But can he trust Artagan, or does the dark newcomer harbor deadly secrets of his own?

As Jack's bond with Leah grows, so does the danger to her life. Jack must discover just how much he is willing to risk in order to save the woman he already lost once."
Review:
Thank you to the author, Jen Printy, and Michelle Rever at Red Adept Publishing for a copy of  My Soul Immortal in exchange for an honest review!
The idea of this book is fabulous!  the whole soul immortal thing and all the stuff that goes along with it?  Very original!  I did think the whole plotline was a bit rushed.  A significant event would happen and then the author just put three months later…  That really screwed with my sense of time within the book.  Also to do with time, I was wondering why it took Jack over a hundred years to actively start looking for the reason he is immortal.  Or maybe he did and that just wasn't made clear…
I really liked Artagon's character and the mystery surrounding him.  That little part at the end was perfect!  It was a bit confusing but I have a gut feeling that will be remedied in the sequel which, by the way, I'm going to read for sure!
Ms. Printy also did a wonderful job connecting me to the characters.  I actually started crying at one point!
The Final Verdict
The plotline was very good, a bit rushed and a teensy bit confusing, but good.  I loved Artagon's character and everyone else's for that matter.  Some of the character's actions had me a bit confused at times.  The entire idea behind this book (immortals and how they are the way they are) is fascinating!
4 stars
Quotes:
"Times haven't changed all that much. Every woman still longs for her own Mr. Darcy."
"Every hero gets the girl, and every villain gets to die. I envy them all." 
"Pain is as reliable as gravity, but Death never keeps his appointments." 
"He implied he would return. But when? Tomorrow or one hundred years from tomorrow? What's soon to an immortal?" 
"Strangely enough, the flashback retreats until nothing is left but a residue of a headache. I've never been able to control them before. The past has always reigned over me."
About the Author
Since childhood, Jen Printy has been writing. Whether stories about a fantasy world or everyday life in Maine, Jen loved losing herself in the worlds she created on paper. The arts in all forms have always been an important part of Jen's life, a love instilled in her by her father. When Jen isn't writing, she's sculpting as a freelance doll artist.
Jen lives with her husband, two daughters, and diva dog Cookie in southern Maine, where she loves spending time friends and family, finding treasures along the seashore, or enjoying a Guinness at her favorite local pub.