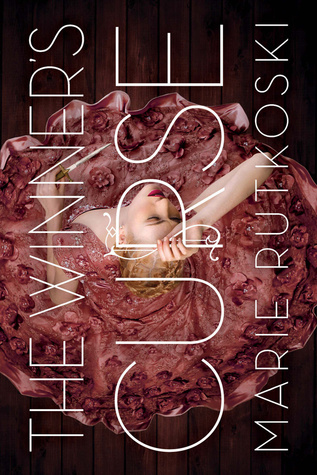 "Winning what you want may cost you everything you love

 

As a general's daughter in a vast empire that revels in war and enslaves those it conquers, seventeen-year-old Kestrel has two choices: she can join the military or get married. But Kestrel has other intentions. 

One day, she is startled to find a kindred spirit in a young slave up for auction. Arin's eyes seem to defy everything and everyone. Following her instinct, Kestrel buys him—with unexpected consequences. It's not long before she has to hide her growing love for Arin. 

But he, too, has a secret, and Kestrel quickly learns that the price she paid for a fellow human is much higher than she ever could have imagined. 

Set in a richly imagined new world, The Winner's Curse by Marie Rutkoski is a story of deadly games where everything is at stake, and the gamble is whether you will keep your head or lose your heart."
This was such a hard book to rate.  I mean, I loved it and I read it basically all in one night… but looking back, there are some elements I just didn't like at all.
Starting with the romance.  I loved the dilemma's at the end, but it was SO predictable in the beginning.  Rich girl buys 'intriguing' male slave.  They fall in love yada yada yada.  Ugh.  That little plot point is getting a little stale for me.
I would also like more world-building.  Maybe add a map, and then describe… everything a bit more?  I felt like I really knew the characters, but then they were just in this field of nothingness, acting out their story.  Maybe it'll get better in the next books.
It also rang a familiar tone on the bell of fantasy.  Mostly the same ideas and plot points.  They were done differently, it just wasn't ALL original.
Believe it or not, I did enjoy most of the book.  The characters and politics were amazing!  I loved how Kestrel's mind worked.  And Arin's too!  They're banters were full of double conversations and meanings.
As I said above, I did love the concept and it was REALLY addicting to read.
I'm not sure how I feel about the ending.  It just kept going and going and going and going and going but I loved the last few paragraphs.  So I don't know.  I guess just like the Hush, hush series, I'd like to see where this is going.
The Final Verdict
I really liked the concept of this book although it was pretty predictable for me.  Romance becoming one of the plot points is getting pretty stale at this point.  I loved Kestrel's smarts and Arin's mystery, however, and the politics were fantastic!
3.5 stars
Quotes:
"Isn't that what stories do, make real things fake, and fake things real?"
"Arin smiled. It was a true smile, which let her know that all the others he had given her were not." 
"You don't, Kestrel, even though the god of lies loves you." 
"Arin wondered if she would lift her eyes, but wasn't worried he would be seen in the garden's shadows.
He knew the law of such things: people in brightly lit places cannot see into the dark." 
"Happiness depends on being free, and freedom depends on being courageous." 
"Cold without, color within. This was how it had been."