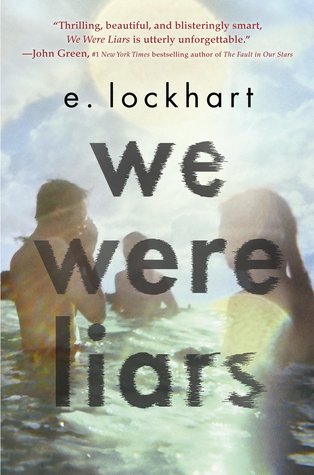 "

A beautiful and distinguished family.
A private island.
A brilliant, damaged girl; a passionate, political boy.
A group of four friends—the Liars—whose friendship turns destructive.
A revolution. An accident. A secret.
Lies upon lies.
True love.
The truth.
 
We Were Liars is a modern, sophisticated suspense novel from National Book Award finalist and Printz Award honoree E. Lockhart. 

Read it.
And if anyone asks you how it ends, just LIE."
Review:
This is a mini review meaning while I was reading this book… I just didn't have much to say about anything.  So here goes!
I was prevented from connecting with this book right from the start just because the way it was written.  I was always kept at the fence, watching the characters do their thing.  Hence the missing half a star.  It was also a bit short and the ending was a bit abrupt.
Now the ending… I DID NOT see that coming!  It was such a roundabout way of getting there – the perfect ending!  I also loved the message or the 'universal truth' as my English teacher would say.  Of course, if I told you what it was, you wouldn't even need to read the book!  But trust me, it's worth it.  And even if it isn't, it's a short book and you'll be done in no time!
The writing style was absolutely amazing as well.  I loved the 'stories' that our narrator put together and there are some beautiful quotes!  I didn't have enough room to put them all down below!
The Final Verdict:
It was a bit short and ended quite abruptly.  I also felt like I was always a step away from the characters.  I really loved the writing style as well!  I did love the ending and the messages so it's a solid…
4.5 stars!
Quotes:
"We are liars. We are beautiful and privileged. We are cracked and broken." 
"The universe is seeming really huge right now. I need something to hold on to." 
"If you want to live where people are not afraid of mice, you must give up living in palaces." 
"Always do what you're afraid to do."
"There is not even a Scrabble word for how bad I feel." 
"Be a little kinder than you have to." 
"Do not accept an evil you can change."