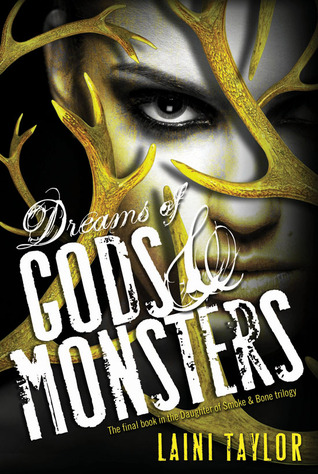 "

By way of a staggering deception, Karou has taken control of the chimaera rebellion and is intent on steering its course away from dead-end vengeance. The future rests on her, if there can even be a future for the chimaera in war-ravaged Eretz.

Common enemy, common cause.

When Jael's brutal seraph army trespasses into the human world, the unthinkable becomes essential, and Karou and Akiva must ally their enemy armies against the threat. It is a twisted version of their long-ago dream, and they begin to hope that it might forge a way forward for their people.

And, perhaps, for themselves. Toward a new way of living, and maybe even love.

But there are bigger threats than Jael in the offing. A vicious queen is hunting Akiva, and, in the skies of Eretz … something is happening. Massive stains are spreading like bruises from horizon to horizon; the great winged stormhunters are gathering as if summoned, ceaselessly circling, and a deep sense of wrong pervades the world.

What power can bruise the sky?

From the streets of Rome to the caves of the Kirin and beyond, humans, chimaera and seraphim will fight, strive, love, and die in an epic theater that transcends good and evil, right and wrong, friend and enemy. 

At the very barriers of space and time, what do gods and monsters dream of? And does anything else matter?"
Review:
Whoa.  This book was crazy.  This whole series was crazy!  I don't know how Ms. Taylor comes up with all this stuff but bravo!
First off, Karou and Akiva!  Their relationship was so amazing!  I love how they didn't get back together just because.  They had to get over a bunch of stuff and start believing in themselves, each other, and that dream in the grove that things could be different.  Their relationship is just so complicated and so like real life (well, without the wars and stuff…).
Overall, I really loved the author's writing style although sometimes, things weren't made clear because she talked about them in such an abstract way.  All the examples that come to mind are spoilers but I'm sure if you've read it you know what I mean.  But otherwise, it's so… different.  A good different though!  It made me want to keep reading!  It reminded me about how I felt when I first read Shatter Me and all I could think is that I loved the author's writing style because it was so different and descriptive!
I also loved how this book expanded more into the bigger picture and included humanity (and those dimensions… crazy ending people!).   While we're on the topic of the ending… it was fabulous.  The ending battle seemed a bit too drawn out for me although it was still a very good conclusion.   I'm sad to see the characters go but I'm satisfied by the ending!
Zuzana and Mik are adorable together and when Mik finally… yeah I won't tell you but it's adorable!  Just read it!
Finally, the hidden messages were so cool.  Ms. Taylor managed to work in larger messages about bravery, love, hope, honor, and manipulation.  This book was just so good!  When the magic is finally introduced though, I could have used more of that.  It felt like the book just ended when the magic was only beginning!
The Final Verdict:
A very well written conclusion with dozens of larger hidden messages.  Karou and Akiva's relationship was so realistic and noncliche.  The author's writing style is also so unique and kept me reading!  The ending was a bit drawn out and I could have used a bit more magic though.
4.5 stars
Quotes:
"You are a conniving, deceitful hussy. I stand in awe." 
"You're sitting."
"I sit in awe." 
"Wasn't that what religions did? Squint at one another and declare, 'My unprovable belief is better than your unprovable belief. Suck it." 
"Once upon a time, there was only darkness. And there were monsters vast as worlds who swam in it." 
"I…I sang," she whispered, "if that matters," and Karou felt her heart pulled to pieces. This Misbegotten warrior, fiercest of them all, had crouched in an icy stream bed to sing a chimera soul into her canteen, because she hadn't known what else to do.
The singing wouldn't have mattered, but she wasn't going to tell Liraz that. If Ziri's soul was in that canteen, Karou would happily learn whatever song Liraz had sung and make it part of her resurrection ritual forever, just so that the angel would never feel that she'd been foolish." 
"People with secrets shouldn't make enemies.
People with destinies shouldn't make plans." 
"Be a Samurai.
Because you just never know what's behind the freaking sky." 
"Once upon a time,an angel and a devil pressed their hands to their hearts
and started the apocalypse."