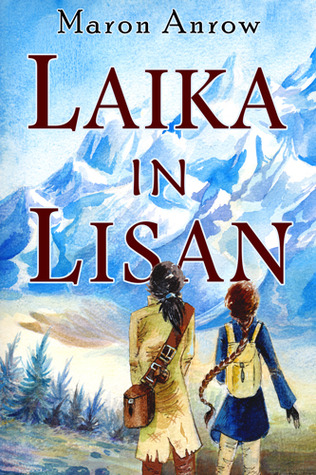 ""I wish I could say this is a story of how I saved everyone and set the world to right. But it isn't. This is a story of my failure."

Laika Roen has always been strangely attracted to Lisan, a mysterious and isolated country where the citizens worship their despotic leader. When Laika is invited to travel to Lisan as a visiting scholar, she jumps at the chance to experience Lisan's unusual culture firsthand.

But Laika gets more than she bargained for when her trip is disrupted by violence and she's forced to set out on her own. As she journeys through forbidden sections of the foreign country, Laika discovers horrible truths about the relationship between Lisan's leader and his people.

Can a simple scholar change the course of an entire country? And even if she can, should she? The distinction between right and wrong blurs as Laika explores not only Lisan, but her own conscience."
Thank you to the author, Maron Anrow, for gifting me with a copy of this book in exchange for an honest review!
Wowza.  Literally that's what I said when I finally put down this book after reading the last sentence.  There were literally two teensy weensy itby bity things that I was slightly irritated about.  Everything else was fabulousness!
To start off, lets talk world-building.  In my opinion, this is one of the most important aspect of any book there is whether it be nonfiction or fiction, fantasy or realistic fiction.  You have to describe the world so much and the attitudes encased within it that the reader is totally engrossed and feels like they're there.  I felt exactly like that when I was reading this!  The descriptions of the two main countries as well as the smaller settings within them were very vivid in my mind as I was reading which definitely added to my enjoyment.
Laika was a perfect MC for this type of book and struggle.  Her attitude about learning about Lisan's culture and its true problems set the stage for the entirety of the plot.  The romance between her and Rodya did seem a bit like a whirlwind romance even though it really wasn't.  Maybe it was just the speed at which I read the book…?
So let's talk big picture for a second.  The relations between Lisan and Trea reminded me a lot of the Koreas (hopefully we're all aware of the situation between North and South Korea).  So if the reference was intentional or not, this sent a really powerful message about relations between countries, manipulation, and politics.  I really did love their relationship though.  It added so much mystery during the course of the book as Laika tries to find out the truth about Lisan.  I would have liked a bit more to be said about the relationship of Lisan and Trea to the other countries that came in at the end.  They came as quite a surprise to me.
And finally the ending!  In the first paragraph there's some not-so-subtle foreshadowing going on that really made me curious as to what happened (and no, I won't tell you what the foreshadowing is!).  I really liked how it ended though.  It was so unique and surprising and perplexing and mind-bending and I just sat there for a couple minutes thinking about what it'll mean for the world (the fictional one of course).
The Final Verdict:
A very compelling read with some real world references and dealings with country relations, power, manipulation, and politics.  Laika was the perfect MC for the job and the world-building is fabulous!
5 stars
Quotes:
Honestly, WHY wasn't I taking notes on quotes?!  These past few books I wrote notes on had no quotes!  I'll get back to this in a day or two don't you worry!