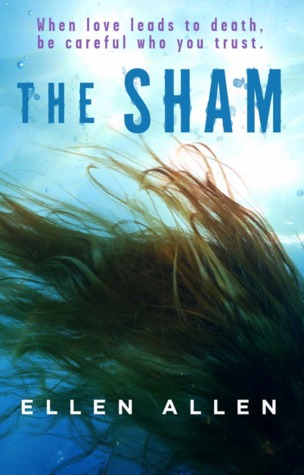 "

When love leads to death, be careful who you trust…

Eighteen-year-old Emily Heath would love to leave her dead-end town, known locally as "The Sham", with her boyfriend, Jack, but he's very, very sick; his body is failing and his brain is shutting down. He's also in hiding, under suspicion of murder. Six months' ago, strange signs were painted across town in a dialect no one has spoken for decades and one of Emily's classmates washed up in the local floods. 

Emily has never trusted her instincts and now they're pulling her towards Jack, who the police think is a sham himself, someone else entirely. As the town wakes to discover new signs plastered across its walls, Emily must decide who and what she trusts, and fast: local vigilantes are hunting Jack; the floods, the police, and her parents are blocking her path; and the town doesn't need another dead body."
Thank you to Carla for informing me about the blog tour she organized and to the author as well!
This was certainly a different book.  If you read the first chapter, you'll know what I mean.  It was just… strange.  I've never read another book like it which in this case is mostly a good and wonderful thing!
Lets get the bad out of the way eh?  The only thing I really questioned was how disjointed it was.  It would jump from one topic to the next and back again all 'within' Emily's head.  I understand how that is sort of true with people but it made everything a bit difficult to read and understand.  Also, Jack and Emily's relationship just jumps right out of the blue.  It starts off as Emily thinking that Jack is weird and then a chapter later, without anything being said, they are boyfriend and girlfriend.  Crazy right?
The one thing that is really interesting to me about this book is Jack.  At the beginning (and really throughout the entire book save the ending), you really think he's some kind of supernatural being and has special powers.  It is true in a sense but it's also grounded in reality.  I won't say anymore but it just turns everything on its head.
So onto the murders.  That was really, really creepy.  And when you find out at the end who really killed everyone, whoa.  I did not see that one coming!  And if you read it and do see it coming, bravo to you!
The Final Verdict:
Everything was absolutely splendid save how everything was so disjointed.  That made it hard to read pretty much all the way through and kept me from immersing myself.  Otherwise, the murders were amazing and the ending was spectacular.
3.5 stars