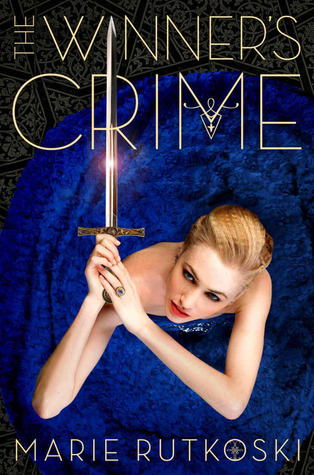 "

Book two of the dazzling Winner's Trilogy is a fight to the death as Kestrel risks betrayal of country for love.

The engagement of Lady Kestrel to Valoria's crown prince means one celebration after another. But to Kestrel it means living in a cage of her own making. As the wedding approaches, she aches to tell Arin the truth about her engagement…if she could only trust him. Yet can she even trust herself? For—unknown to Arin—Kestrel is becoming a skilled practitioner of deceit: an anonymous spy passing information to Herran, and close to uncovering a shocking secret.

As Arin enlists dangerous allies in the struggle to keep his country's freedom, he can't fight the suspicion that Kestrel knows more than she shows. In the end, it might not be a dagger in the dark that cuts him open, but the truth. And when that happens, Kestrel and Arin learn just how much their crimes will cost them."
Review:
Thank you so much to 
Preethi @ Time Turning Reads for giving away ARC copies of The Winner's Crime!
Wow oh wow oh wow oh wow.  Just perfection.  And I thought the first book was good!
The Winner's Crime had so much more game playing and defiance and trickery than the last book!  I love books like this where you try to untangle all the knots and figure everything out.
Kestrel and Arin's relationship was so frustrating and yet it was what kept me reading.  I just wanted them to clear the air and be together again!  But the odds just aren't in their favor.  Their relationship is so intriguing and I just can't get enough!
If you haven't read the first book in the series yet, I highly recommend it so that you'll be able to read this book when it comes out!  Or better yet, wait until the third book comes out and binge read them!
So back to the book.  The emperor also fascinated me.  He's the typical power-hungry noble from the old fairy tales and I loved it.  It kept everything interesting and tricky and you had to constantly think of the consequences of your actions.  I don't think I could ever live like that and it's easy to see how Kestrel gets a bit stressed at the end.  And while we're on the topic, THAT ENDING!!  I'm VERY interested to read how this all gets resolved in the end because it's getting very tricky indeed.  Who will help whom?  Who owes whom debts and who will collect what debts at what time?  It's all so delicious!
The Final Verdict:
This book is like a twisted and tangled knitting ball with all different colors (ah the references abound).  The intensity was perfect, Kestrel and Arin's relationship is captivating and the plot line never ceases to amaze.
5 stars
Quotes (I'll just be posting one for now and will add a quote every day or every other day):
"Brother, you are mad," said the queen. "He loves me," Roshar protested. The cub was sleeping huddled against Rosher's leg. "And when it has grown, and is large enough to eat a man?" "Then I'll make Arin take care of him."