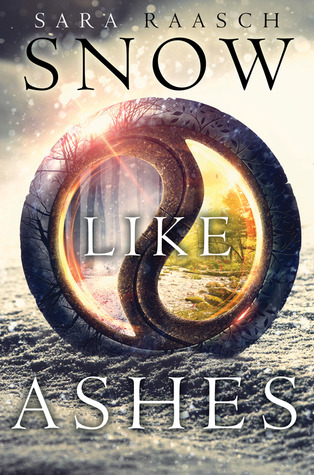 "A heartbroken girl. A fierce warrior. A hero in the making.

Sixteen years ago the Kingdom of Winter was conquered and its citizens enslaved, leaving them without magic or a monarch. Now, the Winterians' only hope for freedom is the eight survivors who managed to escape, and who have been waiting for the opportunity to steal back Winter's magic and rebuild the kingdom ever since.

Orphaned as an infant during Winter's defeat, Meira has lived her whole life as a refugee, raised by the Winterians' general, Sir. Training to be a warrior—and desperately in love with her best friend, and future king, Mather — she would do anything to help her kingdom rise to power again.

So when scouts discover the location of the ancient locket that can restore Winter's magic, Meira decides to go after it herself. Finally, she's scaling towers, fighting enemy soldiers, and serving her kingdom just as she's always dreamed she would. But the mission doesn't go as planned, and Meira soon finds herself thrust into a world of evil magic and dangerous politics – and ultimately comes to realize that her destiny is not, never has been, her own."
First off, let me just mention how much I like the concept of the kingdoms for the different seasons.  It's such a different idea!  HOWEVER!  There's this whole issue with the info-dump at the beginning.  So I was just reading along right and putting together the world in my head and then all of a sudden all this information is just THERE!  I couldn't process it all at once so I just read on thinking I'd figure it out.  Yeah that was a bad decision on my part.  I didn't understand anything and had to go back and read that part over about 4 times before I got it all in my head and was good to go.  HOWEVER!  Things do get so much better!  If you can stick it out past the beginning and get everything in your head, the story is SO worth it.  Let me explain:
I really liked reading about the predicament Winter was in and how Sir was handling it.  It seemed pretty impossible to get out of so I really liked seeing how they played alliances.
WARNING though!  There is quite the love triangle that's forming (although in my mind there is simply no contest between Mather and Theron) so if you don't like love triangles, beware.  I actually kind of like this love triangle because Mather is the typical 'childhood love' while Meira meets Theron while on her adventures outside of Sir's protection (sort of…).  Speaking of which…
The plot twist regarding Meira is so so good.  It's one of those plot twists that you don't see coming but when you look back, you see the evidence EVERYWHERE.  Like literally everywhere.
I did really like the ending as well because it was semi-resolved but still open to SO many problems.  I'm interested to see where this leads and I can't wait to read the next book!
The Final Verdict:
Although the beginning was an insane information dump and boring, it really picks up once you get past that.    I really liked the originality of the kingdoms and the plot twists are on point.
4.5 stars
Quotes:
"I know there are things you aren't telling me. Big things…Sir, I will find out. I only hope your reasoning is good enough for me to forgive you." 
"That's why literature is so fascinating. It's always up for interpretation, and could be a hundred different things to a hundred different people. It's never the same thing twice." 
"So," I start as we pull to the left in the hall, "you're the king of Cordell's son. How's that?"
Theron chuckles. "Beneficial sometime, horrible others. You're beautiful – how's that?" 
"Fear is a seed that, once planted, never stops growing." 
"Even the strongest blizzards start with a single snowflake." 
"Someday we will be more than words in the dark."