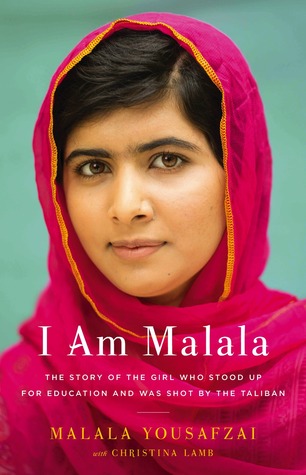 "

I come from a country that was created at midnight. When I almost died it was just after midday.

When the Taliban took control of the Swat Valley in Pakistan, one girl spoke out. Malala Yousafzai refused to be silenced and fought for her right to an education.

On Tuesday, October 9, 2012, when she was fifteen, she almost paid the ultimate price. She was shot in the head at point-blank range while riding the bus home from school, and few expected her to survive. 

Instead, Malala's miraculous recovery has taken her on an extraordinary journey from a remote valley in northern Pakistan to the halls of the United Nations in New York. At sixteen, she has become a global symbol of peaceful protest and the youngest-ever Nobel Peace Prize laureate.

I Am Malala is the remarkable tale of a family uprooted by global terrorism, of the fight for girls' education, of a father who, himself a school owner, championed and encouraged his daughter to write and attend school, and of brave parents who have a fierce love for their daughter in a society that prizes sons.

I Am Malala will make you believe in the power of one person's voice to inspire change in the world."
Review:
Let me just sum up my entire review by saying I really loved this book.  I read it while I was on the beach in June in about 3 hours and I just couldn't put it down!  I also didn't really know all that much about what was happening in Pakistan and what all went on with the Taliban because it started when I was little so this book helped so much by filling in some of the holes.
You also don't get some perspectives when you only get one news source.  This book provides another perspective into the conflict and what was going on with the people of Pakistan.  I would definitely recommend this to everyone not because I'm saying it's a perfect historical account, but because it's good to have multiple perspectives.
More than anything, I loved reading the voice of Malala.  She comes across as such a brave girl who asked questions that deserved answers and she was punished for them.
The Final Verdict:
I really can't find anything that I didn't like about this book.  It was so good to read about a new perspective about what was happening in Pakistan with the Taliban and how they affected the people's lives who live there.
5 stars
Quotes:
"Once I had asked God for one or two extra inches in height, but instead he made me as tall as the sky, so high that I could not measure myself." 
"Let us pick up our books and our pens," I said. "They are our most powerful weapons. One child, one teacher, one book and one pen can change the world." 
"I told myself, Malala, you have already faced death. This is your second life. Don't be afraid — if you are afraid, you can't move forward." 
"My mother always told me,"hide your face-people are looking at you".I would reply,"it does not matter;I am also looking at them" 
"Education is education. We should learn everything and then choose which path to follow." Education is neither Eastern nor Western, it is human."
"When the whole world is silent, even one voice becomes powerful." 
"We realize the importance of our voices only when we are silenced."