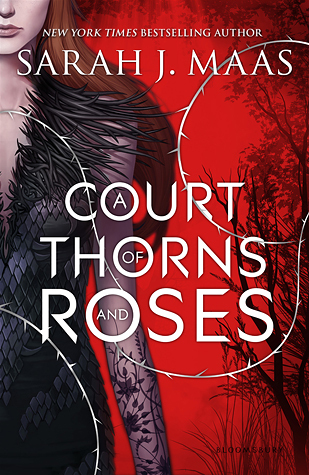 A Court of Thorns and Roses #1
"A thrilling, seductive new series from New York Timesbestselling author Sarah J. Maas, blending Beauty and the Beast with faerie lore.

When nineteen-year-old huntress Feyre kills a wolf in the woods, a beast-like creature arrives to demand retribution for it. Dragged to a treacherous magical land she only knows about from legends, Feyre discovers that her captor is not an animal, but Tamlin—one of the lethal, immortal faeries who once ruled their world.

As she dwells on his estate, her feelings for Tamlin transform from icy hostility into a fiery passion that burns through every lie and warning she's been told about the beautiful, dangerous world of the Fae. But an ancient, wicked shadow grows over the faerie lands, and Feyre must find a way to stop it… or doom Tamlin—and his world—forever.

Perfect for fans of Kristin Cashore and George R. R. Martin, this first book in a sexy and action-packed new series is impossible to put down!"
This was just another phenomenal novel by Sarah J. Maas!  Let me start off with the list of awesomeness:
1.  The chemistry between Tamlin and Feyre.  From the very beginning, I could see that there was a spark.  And what made it so engrossing was Tamlin's situation.  When all was revealed near the middle of the book, you look back and everything makes sense.  Every scene between them was beautiful!
2.  The world-building.  It was so nice of Ms. Maas to include a map of the entire world so we get to see where the places that are mentioned are and where the story is going.  We don't get to explore a majority of the places on the map in this book but you can tell that we'll get to go into them more in depth in coming books.  I just love books that include maps in general.  It really helps me with the visualization.  As for the world-building itself, I could definitely see similarities between this world and the Throne of Glass world but there are key differences that we get to explore (it's killing me to speak in such vague terms but I don't want to spoil anything if you haven't read it yet!).
3.  The motives, political and military intrigue, and all the complications.  Especially at the end when Rhysand really comes into play, things get complicated and everything gets so entangled together that you don't know where loyalties lie.  I love these kinds of books (think The Winner's Curse series).  They get your mind working!
4.  The ending.  The ending left just enough loose ends for the next book to pick up on (like Rhysand's last line – WHAT WAS WITH THAT?!?) but it closed off enough that I feel satisfied with the ending for now.  Things are semi-happy but you can definitely see complications that are going to arise in the future.
5.  The characters.  The characters were definitely not flat.  Not at all!  Feyre's desire to keep her family alive as well as how she and her family interact before she goes with Tamlin (and after everthing) as well as Rhysand and Lucien's attitudes during their respective places in the story really added that extra element.  This sort of goes along with #3 in that the characters interwove themselves and their own feelings and motivations to create this lovely tapestry where Ms. Maas tells her story.  I know I getting all lyrical here!
I seriously can't wait for the next book to come out because I want more!!
The Final Verdict:
A phenomenal start to a new series that has me aching for more!  The complicated character motivations, hidden alliances, the characters themselves, and above all, the world-building, were all gloriously engrossing.
5 stars
Quotes:
"Do you ever stop being so serious and dull?"
"Do you ever stop being such a prick?" I snapped back.
Dead—really, truly, I should have been dead for that.
But Lucien grinned at me. "Much better." 
"When you healed my arm…You didn't need to bargain with me. You could have demanded every single week of the year." My brows knit together as he turned, already half-consumed by the dark. "Every single week, and I would have said yes." It wasn't entirely a question, but I needed the answer. 
A half smile appeared on his sensuous lips. "I know," he said, and vanished." 
"I found him carefully studying me, his lips in a thin line. "Has anyone ever taken care of you?" he asked quietly.
"No." I'd long since stopped feeling sorry for myself about it."
"You look . . . better than before."
Was that a compliment? I could have sworn Lucien gave Tamlin an encouraging nod.
"And you hair is . . . clean."
"Don't feel bad for one moment about doing what brings you joy." 
"I was as unburdened as a piece of dandelion fluff, and he was the wind that stirred me about the world."
"I love you,' he whispered, and kissed my brow. 'Thorns and all." 
"Pity those who don't feel anything at all."