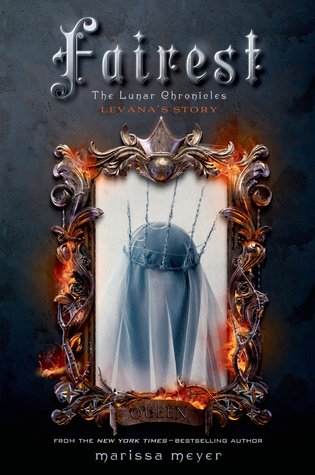 The Lunar Chronicles #3.5
"

In this stunning bridge book between 

Cress

 and 

Winter

 in the bestselling Lunar Chronicles, Queen Levana's story is finally told.

Mirror, mirror on the wall,
Who is the fairest of them all?

Fans of the Lunar Chronicles know Queen Levana as a ruler who uses her "glamour" to gain power. But long before she crossed paths with Cinder, Scarlet, and Cress, Levana lived a very different story – a story that has never been told . . . until now. 

Marissa Meyer spins yet another unforgettable tale about love and war, deceit and death. This extraordinary book includes full-color art and an excerpt from Winter, the next book in the Lunar Chronicles series."
This is a welcome addition to The Lunar Chronicles series although I wouldn't say it was the greatest book I've ever read.  The biggest reason I kept reading was because I wanted to see how it all ended up to get some insight into how she is now (and will be in Winter).
Surprisingly
, I did feel some sympathy for Levana during some sections of the book.  It's clear that she wasn't raised in the best household and that really affected her world-view and her morals.  We learn about Levana's older sister, Channery, as well as what happened with the whole family situation to create the dynamic in which Cinder, Selene, and Winter have to live in today.  Them and Jacin Clay!  He enters the story in… Scarlet I believe (90% sure!) and it was awesome to get some background on him.  I was a bit confused by the royal lineage when it's explained in Cinder, Scarlet, and Cress so it was nice to get all of that clarified.
Ms. Meyer's writing is as flawless as ever and I thoroughly enjoyed reading this book!
The main reason I loved this addition to The Lunar Chronicles series is because of the additional information it gives us on all of the Lunar characters in the series.  It helped explain so many things and it actually helps you understand Levana a little bit more.  This kind of reminds me of the movie Maleficent (movie review coming soon!) because it shows the story from the perspective of the 'villain'.
"The guilt and the horror and the memory of that awful smell might stay with her forever, but she was the queen." 
"Then, on the twenty-first day of December in the 109th year of the third era, Queen Channary gave birth to a baby girl. She was officially named Princess Selene Channary Jannali Blackburn of Luna," 
"I know you must be hurting now, but don't give up hope on future happiness, and all the good things that are still to come for you." 
"At first I thought, why, he might be a perfect little match for my perfect little girl." 
"Don't worry about her. It was only her birthday, after all. This was only her party."
"She was suddenly angry. Angry that this woman was so effortlessly pretty. Angry that tonight she would sleep beside her doting husband. That soon she would hold a wrinkled, wailing baby in her arms and that child would never question whether it was loved, or whether its parents loved each other.
Nothing Levana wanted had ever come that easily." 
"Are you still waiting for me to fall in love with you?" 
"Maybe the princess could save herself."
"That sounds like a pretty good story too." 
"She cried for the girl who had never belonged. A girl who tried so hard, harder than anyone else, and still never had anything to show for it."