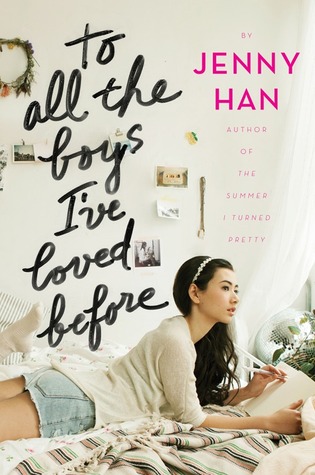 To All the Boys I've Loved Before #1
"

To All the Boys I've Loved Before is the story of Lara Jean, who has never openly admitted her crushes, but instead wrote each boy a letter about how she felt, sealed it, and hid it in a box under her bed. But one day Lara Jean discovers that somehow her secret box of letters has been mailed, causing all her crushes from her past to confront her about the letters: her first kiss, the boy from summer camp, even her sister's ex-boyfriend, Josh. As she learns to deal with her past loves face to face, Lara Jean discovers that something good may come out of these letters after all."
This book was certainly amusing, that's for sure.  The general idea was a very good one however I just didn't find most of the elements all that memorable.
Lets talk about the characters for a minute.  The MC herself, Lara Jean, was okay.  She wasn't remarkable in any sort of way for a 16-year old girl although a lot of her choices were certainly questionable.  I found the MC's sisters quite endearing except for the sister at fault (trying not to spoil!).  I just could not understand WHAT she was thinking.  As if everything was a joke… However, I did enjoy reading about how the sisters dealt with being separated for basically the first time in their lives.
I think the only thing that I'm going to remember about this book is the hilariously awkward scenes and seeing what Lara's choices cost her.  Without spoiling anything, I can safely say I just couldn't hold it together in public when some of these scenes happened!
Fair warning: there is a love triangle!  It actually worked out in an okay way with everyone being relatively happy.  The ending, however, was somewhat unsatisfying with the lack of details.  I did really like the way it wrapped up but it also left so much open!  I'm one of those people who wants every end tied off and if it isn't at the end, I'll reread the whole book looking for clues as to what happened.  No luck with this book 😦
A good concept but it just wasn't executed memorably enough for me.  The characters were average although the love triangle and the awkward scenes did work out.
3 stars
Quotes:
"My letters are for when I don't want to be in love anymore. They're for good-bye. Because after I write in my letter, I'm not longer consumed by my all-consuming love…My letters set me free. Or at least they're supposed to." 
"I'm always wondering about the what-ifs, about the road not taking." 
"Smirking, he says, "Whatever spell you just tried to cast on me, it didn't work, so I think you need to go back to Hogwarts." 
"I didn't fall for you, you tripped me!" 
"I don't have to be so afraid of good-bye, because good-bye doesn't have to be forever." 
"It's not like in the movies. It's better, because it's real."
"Life doesn't have to be so planned. Just roll with it and let it happen." 
"You'd rather make up a fantasy version of somebody in your head than be with a real person."
"When someone's been gone a long time, at first you save up all the things you want to tell them. You try to keep track of everything in your head. But it's like trying to hold on to a fistful of sand: all the little bits slip out of your hands, and then you're just clutching air and grit."