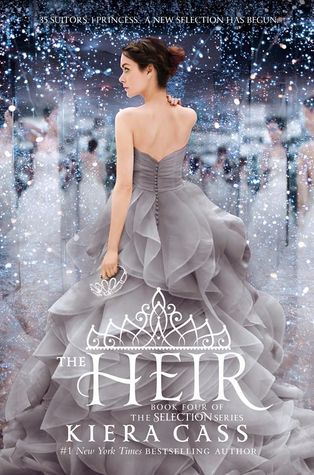 "

Princess Eadlyn has grown up hearing endless stories about how her mother and father met. Twenty years ago, America Singer entered the Selection and won the heart of Prince Maxon—and they lived happily ever after. Eadlyn has always found their fairy-tale story romantic, but she has no interest in trying to repeat it. If it were up to her, she'd put off marriage for as long as possible.

But a princess's life is never entirely her own, and Eadlyn can't escape her very own Selection—no matter how fervently she protests.

Eadlyn doesn't expect her story to end in romance. But as the competition begins, one entry may just capture Eadlyn's heart, showing her all the possibilities that lie in front of her . . . and proving that finding her own happily ever after isn't as impossible as she's always thought."
Review:
This book… was just okay.  I mean, I was so excited to read it once I learned that Kiera was writing another book solely so I could check up on America and Maxon and see how married life is treating them.  And that did satisfy my desires somewhat.  But a lot of the book was ruined by the main character.
Eadlyn is just a horrible person.  The Selection was actually such a good idea for her because she was terrible and needed to learn some humility.  I don't get how Maxon and America could have raised her!  Ever her twin brother Ahren isn't as bad as she is!  I think that's all I can say on the topic or I'll get too fired up.
Luckily, the male love interests in the story were amazing.  They really at least tried to help Eadlyn grow a heart and they were just in general, okay people. I still haven't decided who I'm rooting for! I mean, there are so many great guys and they all have great qualities to them. I know I'm definitely not Team Ean because of their whole agreement. That just isn't conducive to being happy for a long period of time! I have a feeling that Eadlyn does have a heart somewhere in her body and hopefully she'll be able to find it by the end of this series!
It was really hard to push through the beginng because all that was happening was Eadlyn being a terrible person.  I get why some of it was necessary but still.
I really did like the ending although it's such a cliffhanger.  People change and big things happen and I really liked why they happened.  They occured for the right reasons and helped the characters on their journey.
An okay addition to The Selection series.  I really enjoyed getting to see America and Maxon's life after they were married although Eadlyn was just horrible to read about.  IT all is okay in the end though so that's what matters.
3 stars


Quotes:
"I walked over to Osten, who looked like he was itching to climb on something.
"What are you up to today?" I asked.
"I don't know."
"Go find the Selected guys and ask them awkward questions. Report back."
He laughed and went running.
"Where's he off to?" Dad asked quietly.
"Nowhere." 


"And this might also sound trivial, but I don't think you'd make attractive children."
"Daddy!" I yelled, causing a bit of a stir. I buried my head in my hand as Dad doubled over in laughter.
"I'm just saying!" 


"When my father is stern, no one chastises him. I don't think it's fair that when I act similarly, I'm seen as cruel. I'm making a huge decision, and I'm trying to be wise about it." 


"I'm not sure anyone knows what they're looking for until they find it." 


"I only have one heart, and I'm saving it."


"There are some things you don't learn about yourself until you let someone else into the most intimate places of your heart." 


"It was a bubble of pure joy.
There were no cameras around to capture it, no reporters to tell the world about it. And for some
reason, that made it so much better." 


"You can be brave and still be feminine. You can lead and still love flowers. Most importantly, you can be queen and still be a bride."