"An ancient war. A long-told prophecy. A cursed Inheritance.
If you were destined to die, how would you choose to live?

Between the shadows of the human world, a war as old as time is being fought. Ageless pantheons scheme to obtain or keep control, provoked by the weight of human belief which has altered the realm of the divine.

An ancient prophecy speaks of a human woman who will alter the course of this divine war, a descendant of a Great House mired in misfortune and blood, whose history was shaped by the cruelty of the gods.

On a day as unremarkable as any other, Elena Vicens, a young woman living a seemingly ordinary life, receives a letter about a deposit box belonging to her mother, nineteen years after her mother's death. When this letter sends her on a journey halfway across the world from New Orleans to Japan, Elena unknowingly comes into possession of a cursed inheritance. She is suddenly thrust into a world of myths and legends, where the intangible and the strange are the fabric of everyday life, and deathless gods vie for victory at any cost.

As allies converge to help Elena fulfill the prophecy, one of whom is struggling with his own inheritance, Elena must choose for herself the measure of her own destiny.

>>>The book includes a comprehensive appendix that can be accessed through the Table of Contents."



Review:
Thank you to the author, Eva Vanrell, for gifting me with a copy of The Butterfly Crest in exchange for an honest review!
I'll start off this review by saying I really don't know much about any pantheons aside from the Greek and Roman ones.  So this book was so informative for me to learn more about Japanese culture and other pantheons.
So.  One thing I learned while I was reading this was to pay attention to the names.  You really have to remember them and remember their relevance to the MC.  It almost reminded me of an Agatha Christie book just regarding the number of important characters.  It is semi-important that you're at least aware of the different pantheons and what they consist of – it helped me so much to keep everything straight!
I did really like how the author incorporated all of the pantheons in modern day society.  She integrated them so well and so realistically.  It almost reminded me of the Percy Jackson and the Olympians series just because of the way that it was integrated in society.
As for the characters, I did really like the MC.  She was nicely developed and I could sympathize with her (not really empathize because I haven't ever been in a situation like hers!).  I did see the romance between her and another character (if you read it you'll figure it out pretty quickly!).  It seemed sort of typical but the journey to get there was anything but.  Which leads me to the ending!
The ending was absolutely crazy!  You know when you look down at the percent and you see you're almost done?  Well that happened when something EPIC and CRAZY and HEART-BREAKING happened and I thought that was the end.  Rest assured, it isn't!  It's safe to say that I was crying at the end it was so emotional.  The ending also took the MC somewhere I had thought about but didn't really place her.  I'd be interested in reading the next book to see how she fares!
Though it did drag on in parts and the romance was a bit predictable, I loved the different pantheons and how they were incorporated into modern society.  Be careful to keep track of all the characters and you'll love it!
"To have a twin in Death was to share an unyielding and apathetic soul. Sleep survived Death's apathy only by virtue of his nature; endless intervals of sleep regenerated a bond that in any other instance would have been destroyed entirely—dispersing their elements into the Void; a god's true death."
"He would bear the weight of the inevitable in the same stoic manner he had borne it before, etched indelibly into the infinite fabric of his immortal life." 
"A warm bath is a wonderful place for heavy conversation." 
"The city rose out the ground beneath it like the first sparkling blossom in the fading winter snow. Here, the winter of death was past its zenith. Rather than an ending, it was the beginning of a life renewed—fragile and yet extraordinarily resilient." 
"Death does not have the luxury of kindness."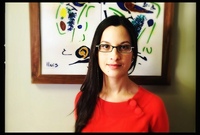 Author. Attorney. New Orleanian. Lover of Cherry Ring Pops. Confirmed Japanophile. Dreamer. Sometimes Obsessive. Blunt to a Fault. Wishful-Thinker. Tea and Anime Compulsive. Diehard. 
I live in New Orleans with my husband, two cats and a Japanese maple. 😉
In the beginning of 2011, I took a blind leap of faith to pursue what I loved most. The result of that journey is my debut novel, 
The Butterfly Crest
. I am currently working on Book Two of the series, so please stay tuned.
Feel free to follow me on 
Facebook
, 
Twitter
 and 
Pinterest
. To receive exclusive updates on my latest news, sneak peeks and special promotions, sign up now on 
Eva's List
! 
Happy reading!
1.  Were you familiar with the various pantheons mentioned in The Butterfly Crest before starting to write it or did you learn as you went?
I was very familiar with the various pantheons mentioned in the book before I started writing it. I have a background in Classics and I've been obsessed with the Celts and Japan for years. That said, I had to fine-tune everything I knew, so there was quite a lot of research to be done once I actually sat down to write.
2.  How long did it take you to write The Butterfly Crest?
5 months and 24 days! If only the editing process would have been that short.
3.  What do you like best about the Japanese culture?
There's a juxtaposition of past and present in Japan, accented by tradition, honor and spirituality. What enthralls me about ancient cultures and myths is still very much alive there, and I can't help but be fascinated by it.
4.  Did you know what the ending was going to be before you wrote it?
Yes! I knew before I typed the first word of my manuscript. The series itself hinges on what happened at the end of BC. What I didn't know was how I would actually close the book. I didn't know I had typed the last word until after I typed it.
5.  Going along with that, do you generally like to plan out what is going to happen (major plot points) or do you just write wherever it takes you?
I do both. I outline major plot points like a fiend, but then let the in between develop naturally (usually dictated by the characters).
6.  How would you describe The Butterfly Crest in 6 words or less?
Having read the book, you probably noticed that I have a penchant for description and I'm allergic to being brief, so this one's tough. I could cheat and go with the logline (
ancient war, long-told prophecy, cursed inheritance
) or something straightforward (
a modern Greek Epic
), but I'm going to go with something a little more personal instead—
a flower that blooms in winter
.
7.  Do you have a favorite place to write?
Not exactly. As long as I have a cup of tea and solitude, I'm good. If I don't have tea while I write, nothing really happens—Elena gets that obsession from me 😉
8.  Typing or handwriting?
Typing. I type much faster than I write by hand.
9.  Are you a reader as well as a writer?  If so, any favorite books/genres?
I love to read. My favorite genre would be fantasy, but I also enjoy British Romanticism, Gothic Fiction and Magical Realism. My favorites would be anything by J.R.R. Tolkien, Jane Eyre by Charlotte Brontë, Kafka on the Shore by Haruki Murakami, and The Picture of Dorian Gray by Oscar Wilde. 
10.  Finally, any advice for aspiring writers?
Write. Write. Write. I can't begin to express how important that is. Even if you're staring at a blank page for hours and the blinking cursor keeps taunting you, write.
Thanks so much for the interview Eva!