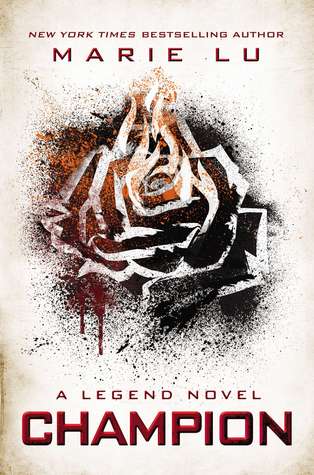 "He is a Legend.

She is a Prodigy.
Who will be Champion? 

June and Day have sacrificed so much for the people of the Republic—and each other—and now their country is on the brink of a new existence. June is back in the good graces of the Republic, working within the government's elite circles as Princeps-Elect, while Day has been assigned a high-level military position. 

But neither could have predicted the circumstances that will reunite them: just when a peace treaty is imminent, a plague outbreak causes panic in the Colonies, and war threatens the Republic's border cities. This new strain of plague is deadlier than ever, and June is the only one who knows the key to her country's defense. But saving the lives of thousands will mean asking the one she loves to give up everything. 

With heart-pounding action and suspense, Marie Lu's bestselling trilogy draws to a stunning conclusion."
Well if this isn't a heartbreaking final book in a trilogy, I don't know what is.  But we'll get to that in a bit.
For some of the not sad stuff, there were plenty of awesome things about this book.  For one, I actually really liked this love triangle simply because of all the other factors that went into June loving one boy or the other (Day or Anden).  For example, she feels terrible for loving Day and realizing that every time he looks at her, he has to endure the memory of his family dying at her direction.  But with Anden, he and June just don't have the same chemistry and the same lives.  Anden is forced to live the political life while June just wants to fight.  It really worked like that.
I feel like I have to mention the awesome formatting of this book before I continue.  I have the hardcover box set of this series and the way they formatted it is so cool!  In this book, Day's POV is printed in red ink and in a slightly looser font while June's POV is in black and is in a more blockish looking font.  Also, at the top of some of June's chapters (when the mood calls for it) there are headings of the exact date, time, temperature, etc. etc.  They've been growing less and less frequent since the first book which really shows you how June has evolved from that girl just beginning in Legend.  Anyway, the difference in formatting between the two POV's really puts into stark contrast their backgrounds, lives, and personalities.
Just in general, I really liked all of the characters and how they reacted to the difficult position they were put it.  Eden especially.  We get to see him grow up a lot in this book and become his own person.
I suppose I should get onto the sad part now… 😦  The ending of this book literally ripped my heart out.  It's so devastating but I loved it at the same time.  It made sense with the character's personalities and values and really fit the story.  I'm not going to say any more than that or else I'll spoil!  The epilogue was such a life saver though!  It provides that perfect element of questioning and curiosity and well, hope.  It wraps everything up without wrapping it up if that makes any sense.  I think that's my favorite chapter in the whole book!
It took me such a long time to put together my thoughts for this book but I finally figured out how I feel about it!  While it did rip my heart out and stomp on the pieces, it also offered a bit of peace at the end.  The characters stuck true to themselves and I loved watching Eden grow.  The formatting is also definitely on point!  That said, I probably will never reread the last half of this book 😀
"Day, the champion of the people, the one who can't bear to see those around him suffer on his behalf, who would gladly give his life for those he loves."
"Time heals all wounds. But not this one. Not yet." 
"I took an oath June. I am still bound by that oath. I will die with honor for sacrificing everything I have-everything-for my country.. And yet, Day is a legend, while I am to be executed." His voice finally breaks with all his anger and inner torment, the injustice he feels. "It makes no sense."
I stand up. Behind me, guards move toward the cell door. "You're wrong," I say sadly. "It makes perfect sense."
"Why?"
"Because Day chose to walk in the light." I turn my back on him for the last time. The door opens; the cell's bars make way for the hall, a new rotation of prison guards, freedom. "And so did Metias." 
"June laughs. "I have to say, you look better than most people I see. I've heard a lot about you."
"I hear about you a lot too," Eden replies in a rush, "mostly from Daniel. He thinks you're really hot."
"I feel so out of place here. No matter how much money the Republic throws at me, I will forever be the boy from the streets." 
"Where I come from, we're more about efficiency,' he replies. 'A knife like this'll skewer food, smear butter, and slit throats all at the same time." 
"Day just smiles at me, an expression so sad that it breaks through my numbness, and I begin to cry. Those bright blue eyes. Before me is the boy who has bandaged my wounds on the streets of Lake, who has guarded his family with every bone in his body, who has stayed by my side in spite of everything, the boy of light and laughter and life, of grief and fury and passion, the boy whose fate is intertwined with mine, forever and always.
"I love you," he whispers. "Can you stay awhile?" 
"Hi," he says. "I'm Daniel."
"Hi," I reply. "I'm June." 
"Please don't take him away from this world. Please don't let him die here in my arms, not after everything we've been through together, not after You've taken so many others. Please, I beg You, let him live. I am willing to sacrifice anything to make this happen- I'm willing to do anything You ask. Maybe you'll laugh at me for such a naive promise, but I mean it in earnest, and I don't care if it makes no sense or seems impossible. Let him live. Please. I can't bear this a second time. 
Tell me there is still good in this world. Tell me there is still hope for all of us." 
"It hurts every day, the absence of someone who was once there." 
"I've been searching a long time for something I think I lost.
I felt like I found something when I saw you back there." 
"I can feel his presence here in every stone he has touched, every person he has lifted up, every street and alley and city that he has changed in the few years of his life, because he is the Republic, he is our light, and I love you, I love you, until the day we meet again I will hold you in my heart and protect you there, grieving what we never had, cherishing what we did. I wish you were here.
I love you, always." 
"Sometimes, the sun sets earlier. Days don't last forever, you know. But I'll fight as hard as I can. I can promise you that."