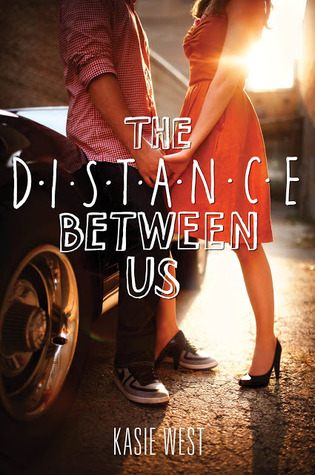 "

Seventeen-year-old Caymen Meyers studies the rich like her own personal science experiment, and after years of observation she's pretty sure they're only good for one thing—spending money on useless stuff, like the porcelain dolls in her mother's shop.

So when Xander Spence walks into the store to pick up a doll for his grandmother, it only takes one glance for Caymen to figure out he's oozing rich. Despite his charming ways and that he's one of the first people who actually gets her, she's smart enough to know his interest won't last. Because if there's one thing she's learned from her mother's warnings, it's that the rich have a short attention span. But Xander keeps coming around, despite her best efforts to scare him off. And much to her dismay, she's beginning to enjoy his company.

She knows her mom can't find out—she wouldn't approve. She'd much rather Caymen hang out with the local rocker who hasn't been raised by money. But just when Xander's attention and loyalty are about to convince Caymen that being rich isn't a character flaw, she finds out that money is a much bigger part of their relationship than she'd ever realized. And that Xander's not the only one she should've been worried about."
Review:
I think the best thing about this book is the characters – especially Caymen and Xander's banter.  It's so awesome!  Caymen's sarcasm paired with Xander's willingness to play along is priceless!  It makes for a lot of hilarious scenes!
There is one aspect of Caymen that I just couldn't understand.  She just seemed unwilling to think some things through.  I suppose everyone is allowed to have their stupid moments but that scene near the end was just too much.
The plot itself is great.  It kept me engaged and hungry for more.  The revelation at the end really exemplifies what the whole book was trying to say.  When it comes down to it, some things just don't matter when it comes to love and sometimes you just have to trust where it goes.  Caymen finally realizes this at the end (and so does her mom!) which is such a big moment.
I want to dedicate a paragraph to Xander, because seriously, he was just awesome and so, so adorable!  He was always there for Caymen and he was just so sweet when it came to their career days!
The Final Verdict:
A lovely, romantic book with a slightly different feel.  The humor was definitely the best part for me and I'd read it again solely to reread the banter Caymen had with all of the characters, but especially Xander!
4.5 stars
Quotes (they're all so wonderful, I had to put in a bunch!):
"And more'?"
The name of the store is Dolls and More. He's asking what others have before him once they come into the store and only see dolls. I nod. "Dolls and more dolls."
"Note to self: Caymen is very good at sarcasm."
"If you're recording notes for an official record, I'd like the word 'very' stricken and replaced with 'exceptionally." 
"My older brother, Lucas, is twenty and away at college."
"Those are pretty normal names."
"Normal?"
"No Chets or Wellingtons or anything."
He raises one eyebrow. "Do you know any Wellingtons?"
"Of course not, but you probably do."
"No, actually I don't."
"I slide my feet onto the seat next to him, my ankle brushing against his thigh. "No shallowness of breath? No rapidly beating heart?"
He rests one hand on my foot as he continues to mess with his phone. His eyes meet mine in amusement. "Are those the indicators? I might have an issue after all." 
"Mrs. Spence picks up a roll of toilet paper from the counter and scrunches her nose.
"Ask Caymen about that," Xander says.
Great, now I have to explain to his mother about my vandalism? "Your son called me with a toilet paper emergency. I rushed right over."
She looks confused so Xander says, "She's kidding, Mom."
"A lot of people don't get my humor. My mom calls it dry humor. I think that means "not funny," but it also means I'm the only one who ever knows it's a joke."
"You two are the most in-love not-dating people I've met." 
"So Caymen…"
"So, Xander…"
"Like the islands."
"What?"
"Your name. Caymen. Like the Cayman Islands. Is that your mom's favourite place to visit or something?"
"No, it's her third favourite place. I have an older brother named Paris and an older sister named Sydney."
"Wow." He opens the bag, takes out a muffin, and hands it to me. The top glistens with sprinkled sugar. "Really?"
I gently unwrap it. "No."
"I've missed my hot chocolate. I just think of you as the guy who brings it to me. Sometimes I forget your name and call you hot chocolate guy." 
"Feelings can be the most costly thing in the universe."