Stand-Alone to date
Goodreads Blurb:
"
"I know how my recent actions must seem. My story is not a simple one, though it pains me to dwell on how things turned out. All I ask is to see my son, and I hope you'll be willing to help me after reading this letter."

An innocent man has been imprisoned. Hoping to see his son one last time, he composes a letter explaining the devastating event for which he's been blamed. LETTER FROM A DESPERATE FATHER (a short story) is a chilling tale of grief and betrayal with supernatural elements."
Review:
This short story is free to read on Smashwords here:
https://www.smashwords.com/extreader/read/604606/1/letter-from-a-desperate-father
Simply put, I loved this story.  The only thing that could make it better is developing the topic into a full length novel!
Letter from a Desperate Father is in the format of a letter (as you probably gathered) and is sent from a man who only wants to see his son again as he is awaiting the verdict of his attempted murder trial.  It isn't as simple as that, however, and the supernatural aspects that were integrated in were a nice surprise.
I won't go into too much detail (especially because you can read it yourself in a very short amount of time) but I will say this: I love the themes that are implicated in this story.  It has the potential to be so much more and the themes of the limits of love and the mystery of where the MC's wife is from certainly provide enough material.
The Final Verdict:
Ms. Anrow's writing is simply stunning and flows quite nicely, building in tension towards the end.
4.5 stars



Meet the Author
Maron Anrow grew up in California, came of age in the Midwest, and is now passing time in New Jersey. She lives with her husband, stepdaughter, and three awesome cats.
Maron has a Ph.D. in social psychology and has published (under her real name) over 30 scientific articles since 2008. 
Laika in Lisan
 is her first novel.
Connect:
Interview:
1. Why did you start writing? Is there anything in particular that attracted you to it?
I started writing because there were stories I wanted to tell. I've met many talented writers through Goodreads and other online communities, and it's made me realize that "storyteller" describes me better than "writer." Writing is a means to an end for me. If I couldn't write my stories, I'd tell them to myself (in my head) instead.
2. 
Laika in Lisan
 centers around the relationship between two countries and Laika's mission to discover what Lisan is really like. Did your PhD in social psychology help you develop that theme?
There is one theme in 
Laika in Lisan
 that's influenced by my knowledge of social psychology, although I don't know how obvious that theme is to readers. Without spoiling anything, one issue Laika struggles with is whether she took certain actions because of who she is (i.e., her character) or because of the extreme situation she found herself in. That question is at the heart of the field of social psychology. As for the political aspects of the story, that came from a mix of my imagination and inspiration from North Korea.
3. Your most recent work, 
Letter from a Desperate Father
 tackles our ideas of love, betrayal, with some supernatural aspects. Have you thought about developing it into a full length novel?
So far all the reviewers for 
Letter from a Desperate Father
 have expressed an interest in seeing the story turned into a full novel, so perhaps I should do that! I'm currently trying to find a literary agent and publisher for a standalone novel I wrote last year and I have two others novels I'd like to work on (the sequel to 
Laika in Lisan
 and a new YA fantasy project), so for now 
Letter
 will probably remain a short story.
4. Do you identify with any character in 
Laika in Lisan
 or 
Letter from a Desperate Father
 in particular?
I gave Laika my sense of humor and the desperate father shares my fondness for animals, but otherwise they are unique and independent characters.
5. Are you a reader as well as a writer? If so, any favorites?
I'll always be a reader before a writer. At the moment, my favorite fantasy author is Robin Hobb. I can never predict the direction her plots take, and her stories always influence my emotions. I love any book that makes me feel something. My all-time favorite book is 
The Count of Monte Cristo
 by Alexandre Dumas (a very emotional book), followed by 
Crime and Punishment
 by Fyodor Dostoevsky (more emotions!), and 
Ender's Game
 by Orson Scott Card (I'm actually not much of a sci fi reader, but—again—that book gives me emotions).
6. How long did it take you to write both of your fictional works (
Letter from a Desperate Father
 and 
Laika in Lisan
)? Was one easier to write than the other?
I have a habit of starting a story, not touching it for months while I work on an unrelated project instead—which I finish—and then finishing the first story shortly after resuming it. 
Laika in Lisan
 was only about four months of consistent writing, but I didn't touch it for over six months shortly after starting it. I began another novel during that six month period, which I then set aside so I could return to and finish 
Laika
… Likewise, I began the 
Laika
 sequel, only to set it aside to finish that novel I'd set aside for 
Laika
. (I also finished a non-fiction book a few months later. I'm trying to get the two books I wrote last year published traditionally.) Now that the other novel is finished, I expect to return to the 
Laika
 sequel soon. 
Letter from a Desperate Father
 technically took a year from start to finish, but that's because I didn't touch it for about ten months while I wrote those two other books. I probably spent less than 12 hours total working on the story, but it kept getting sidelined by other manuscripts. Traditional publishing is a slow process (with no guarantee of success), so it's been nice to self-publish a short story in the meantime.
7. Any advice for aspiring writers?
My first advice is (1) get it done. If you're a procrastinator, learn how to drop that habit immediately. (2) Listen to reader feedback and revise your work accordingly. First drafts are never good enough. Second, third, and fourth drafts usually aren't, either. I think the hardest part of writing isn't getting the words down, but pushing yourself to revise your work when you're already happy with what you wrote. You've spent months or years immersed in the story, so your perception of (and interest in) it won't be a good barometer of a naïve reader's experience.
A Revisit of a past review…
Back in December of 2014, I reviewed another book of Maron Anrow's: Laika in Lisan.  As a bit of a flashback, here's what I thought!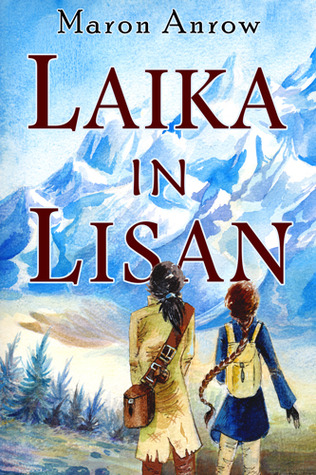 Goodreads Blurb:
""I wish I could say this is a story of how I saved everyone and set the world to right. But it isn't. This is a story of my failure."

Laika Roen has always been strangely attracted to Lisan, a mysterious and isolated country where the citizens worship their despotic leader. When Laika is invited to travel to Lisan as a visiting scholar, she jumps at the chance to experience Lisan's unusual culture firsthand.

But Laika gets more than she bargained for when her trip is disrupted by violence and she's forced to set out on her own. As she journeys through forbidden sections of the foreign country, Laika discovers horrible truths about the relationship between Lisan's leader and his people.

Can a simple scholar change the course of an entire country? And even if she can, should she? The distinction between right and wrong blurs as Laika explores not only Lisan, but her own conscience."
Thank you to the author, Maron Anrow, for gifting me with a copy of this book in exchange for an honest review!
Wowza.  Literally that's what I said when I finally put down this book after reading the last sentence.  There were literally two teensy weensy itby bity things that I was slightly irritated about.  Everything else was fabulousness!
To start off, lets talk world-building.  In my opinion, this is one of the most important aspect of any book there is whether it be nonfiction or fiction, fantasy or realistic fiction.  You have to describe the world so much and the attitudes encased within it that the reader is totally engrossed and feels like they're there.  I felt exactly like that when I was reading this!  The descriptions of the two main countries as well as the smaller settings within them were very vivid in my mind as I was reading which definitely added to my enjoyment.
Laika was a perfect MC for this type of book and struggle.  Her attitude about learning about Lisan's culture and its true problems set the stage for the entirety of the plot.  The romance between her and Rodya did seem a bit like a whirlwind romance even though it really wasn't.  Maybe it was just the speed at which I read the book…?
So let's talk big picture for a second.  The relations between Lisan and Trea reminded me a lot of the Koreas (hopefully we're all aware of the situation between North and South Korea).  So if the reference was intentional or not, this sent a really powerful message about relations between countries, manipulation, and politics.  I really did love their relationship though.  It added so much mystery during the course of the book as Laika tries to find out the truth about Lisan.  I would have liked a bit more to be said about the relationship of Lisan and Trea to the other countries that came in at the end.  They came as quite a surprise to me.
And finally the ending!  In the first paragraph there's some not-so-subtle foreshadowing going on that really made me curious as to what happened (and no, I won't tell you what the foreshadowing is!).  I really liked how it ended though.  It was so unique and surprising and perplexing and mind-bending and I just sat there for a couple minutes thinking about what it'll mean for the world (the fictional one of course).
The Final Verdict:
A very compelling read with some real world references and dealings with country relations, power, manipulation, and politics.  Laika was the perfect MC for the job and the world-building is fabulous!
5 stars