Check out my first post (
HERE
) for a whole explanation on this!  Jenni is hosting this round and she has a linky set up if you'd like to join in!  Check out her blog 
HERE
.
Today's topic is:

a book you thought you wouldn't like but ended up loving.
This one is kind of hard for me!  I always try to keep a very open mind about the books I read so that I don't have any biased opinions.  I finally ended up with this book: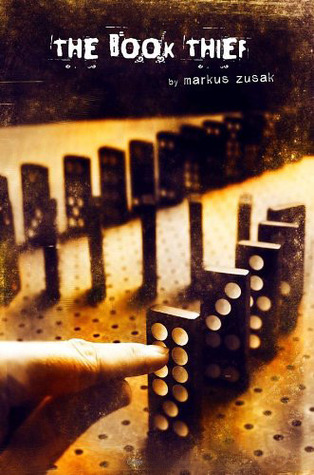 Blurb:
"
It's just a small story really, about among other things: a girl, some words, an accordionist, some fanatical Germans, a Jewish fist-fighter, and quite a lot of thievery. . . .
Set during World War II in Germany, Markus Zusak's groundbreaking new novel is the story of Liesel Meminger, a foster girl living outside of Munich. Liesel scratches out a meager existence for herself by stealing when she encounters something she can't resist–books. With the help of her accordion-playing foster father, she learns to read and shares her stolen books with her neighbors during bombing raids as well as with the Jewish man hidden in her basement before he is marched to Dachau.
This is an unforgettable story about the ability of books to feed the soul."
To be honest, the first time I picked up this book, I couldn't get past the 10th page.  People had told me it was wonderful so I tried reading it and I just couldn't.  I kind of gave up on it for a while until a whole lot more people told me they loved it.  So I tried it again.  And this time I pushed past the beginning and I ended up loving it!
What book did you think you'd hate but ended up loving?