Time for another To Read or Not To Read!  This time, I'll be talking about The Blood of Olympus and whether or not I'll be reading it.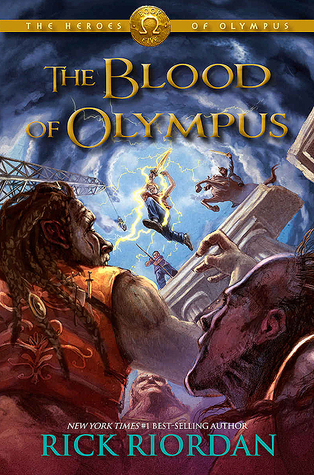 The Heroes of Olympus #5
Goodreads Blurb:
"
Though the Greek and Roman crewmembers of the Argo II have made progress in their many quests, they still seem no closer to defeating the earth mother, Gaea. Her giants have risen—all of them—and they're stronger than ever. They must be stopped before the Feast of Spes, when Gaea plans to have two demigods sacrificed in Athens. She needs their blood—the blood of Olympus—in order to wake.
The demigods are having more frequent visions of a terrible battle at Camp Half-Blood. The Roman legion from Camp Jupiter, led by Octavian, is almost within striking distance. Though it is tempting to take the Athena Parthenos to Athens to use as a secret weapon, the friends know that the huge statue belongs back on Long Island, where it "might" be able to stop a war between the two camps.
The Athena Parthenos will go west; the Argo II will go east. The gods, still suffering from multiple personality disorder, are useless. How can a handful of young demigods hope to persevere against Gaea's army of powerful giants? As dangerous as it is to head to Athens, they have no other option. They have sacrificed too much already. And if Gaea wakes, it is game over."
The Blood of Olympus is the final book in the Percy Jackson series (spin-off series) and presumably the last book that'll be focused on him and his issues (well, slightly focused on him).
The first Percy Jackson book, The Lightning Thief in the first series, Percy Jackson and the Olympians, was released in 2006.  In 2006, I was a wee child in middle school, when I first started reading.  The PJO series was my first taste of YA books (and The Giver by Lois Lowry).  It's the book that got me into reading in the first place!  The last book in that series, The Last Olympian, was published in 2009.
The first BoO book was published in 2010.  So pretty much right after the last series ended.  These two series' have spanned my entire childhood and they've been around since when I first started reading.  So, I'm a little torn about reading the last BoO book and ending the series.
I preordered the book when I came out in 2014 and I was SO excited about reading it.  The further I got into it, though, I started to realize that this was it.  This was the end.  We all know how hard it is to finish a beloved series (finishing HP was devastating).
There is another series, The Trials of Apollo, but that series doesn't really focus on Percy.  So this is the last time I'll be able to be in Percy's head, and I don't want it to end!  I took the hardcover with me to college and it stares me in the face every time I sit at my desk, with the oh-so-prominent bookmark sticking out of it, halfway through the book.
So will I finish reading the book?  As much as I don't want to, I think I will in good time.  I do really want to know how it ends even though it'll probably send me into a book hangover.  It will end my childhood which is such a sad thing to think about, but I think it's time to move on.
I think I will also be starting The Trials of Apollo series
.  It's sort of like Fantastic Beasts and Where to Find them.  While it's a little more closely knit, with the old crew still playing a big role, it focuses on an entirely different character and his journey.  So it'll be cool to see all the old characters again, but it will never be the same. 
I'm still looking forward to reading it, though!
  As soon as my heart can stand to finish Blood of Olympus, of course!
What childhood series have you had to let go of?  Have you read the PJO or BoO series'?  What did you think of them?