So if you hadn't noticed, February has passed us by!  It's now March which means it's time to reflect on the past month.  Let's get to it!
Statistics:
Number of Pages Read:
3,538
Total Books Read:
11
Rereads:
2
Reviews Posted:
7
Distribution of Ratings:
5 star: 
2
4-4.5 star: 
7
3-3.5 star: 
1
2-2.5 star: 
1
1-1.5 star:
0
Number of Authors Read:
10
Number of Series Books Read: 
9
Number of Stand-alones:
2
The Books:
Reads:
Numbers Game
by Rebecca Rode (#1) (
Review
) (
4.5
)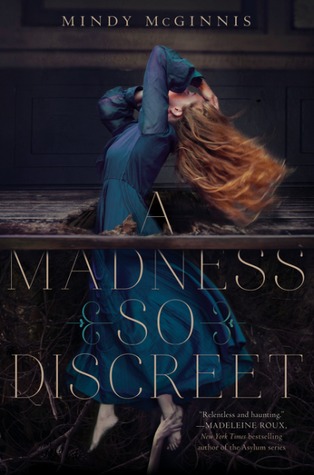 A Madness So Discreet by Mindy McGinnis (Review) (4)
I read one more book than January!  Granted, I reread more books in January, but I'm still proud of myself.  Overall, it's been kind of a mixed bag this month.  My favorite books were A Madness So Discreet, Numbers Game, and Love on St. Barts.  A Madness So Discreet brought in a new theme (madness and it's origins in the human mind) that I hadn't read about before that really intrigued me.  Numbers Game brought up the interesting concept of how we value people in our society.  Love on St. Barts is simply a wonderfully written romance and it was a nice break from all of the heavy books I had read in January.  Under the Never Sky was quite the ride and I'm hoping to read the sequel this month.  I really liked the concept but I do wish there was more explanation of the science of it all.  Lessons on St. Barts (the sequel to Love on St. Barts) was still good although it lost some of it's zest.  I still haven't written a review for Island of the Blue Dolphins yet because I don't really know how I feel about it.  It feels to me like a 4 star book, but I still need to find a way to articulate my thoughts.  It's an interesting read, just a little bare-bones feeling but that goes with the characters and setting.  The Impossible Fortress I enjoyed mainly because it brought up the topic of computer programming back when it was first becoming available to the public and I really enjoyed that journey.  Touched was the low point of the month.  While I have no doubt I would have loved it 5 years ago, it's a Twilight era book with an unhealthy romance and less development than I would like everywhere else.  The Last Shadow Gate was the last book I read this month and I really liked it.  While it could use some more polish and a map, it was a great adventuresome fantasy!
Rereads:
Shatter Me by Tahereh Mafi (#1) (Review to come) (5)
Touched by Corrine Jackson (#1) (Review to come) (5)
These are some old favorites of mine and I was feeling a little nostalgic earlier this month so I decided to pick them up.  I still haven't written reviews for either of them (I first read them back when I wasn't writing reviews and I've never gotten around to it)!  I do love both of them though.
Life Update:
So what's been going on with me this month?
My class schedule is still great for reading as well as getting homework done earlier so I can actually get 8 hours of sleep every night which is so nice.  I've been able to keep up with everything because of this: both reading and homework.
I figured out my A-Z challenge for the first part of this year.  I'll see how long it takes for me to complete this one so I can figure out how many I'll be able to do per year.  Because I'm excluding R&R's, I'm thinking I'll be able to do two every year.  I'm hoping this challenge will help me deplete my TBR a bit (it's currently a very scary number above 2,000).  You can see my line-up HERE.  I'll be posting updates with every monthly wrap-up on how I'm doing and what letters I have left.
As for the Agatha Christie challenge, I didn't read any books toward that this month because I really wanted to focus on R&R's and books I already had checked out from the library.  I'm also going to focus March and April on R&R's so I can finally catch up on them all (I currently have 21 on my schedule).
I only really saw one new movie this month but I really enjoyed it!  I finally got to see Kubo and the Two Strings and I loved it!  Have any of you seen it?  I just thought the animation and the story and the overall message was so cool and well done.
Speaking of movies, who watched the Oscars??  I did and I have to say, I really want to see La La Land and Moonlight now!  I still haven't been able to see them and I really want to.  That moment at the end when La La Land was announced for Best Picture mistakenly definitely made it memorable although it was an entirely understandable mistake.
I also watched the Grammys which were great.  Adele slayed in both of her performances!  Same with Beyoncé, Katy Perry, and everyone else that performed.
I'm still hopelessly behind on both Shadowhunters and The 100 and I'm not sure when I'm going to get caught up although Spring Break is coming up for me (a whole week of relaxation!).  I'm also up to the midpoint of season 4 on Pretty Little Liars and am on episode 15 in season 10 of Grey's Anatomy.  I've been really enjoying both although I haven't been able to watch as much lately.
I have been listening to a lot of new music lately (partly because of the Grammys!) so I'll definitely be doing a Music of the Month as well as more Music Mondays in March.
How was your February?  Have you seen Kubo and the Two Strings?  Did you watch the Grammys or the Oscars?  What books did you read?  Have you read any of the books that I did?  I hope you all have a wonderful March!