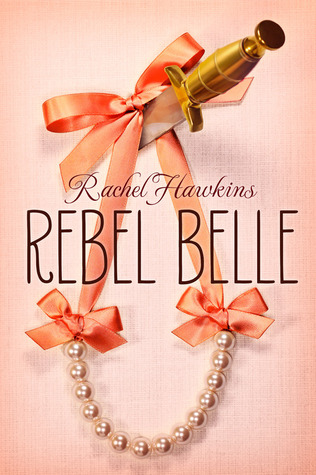 "

Harper Price, peerless Southern belle, was born ready for a Homecoming tiara. But after a strange run-in at the dance imbues her with incredible abilities, Harper's destiny takes a turn for the seriously weird. She becomes a Paladin, one of an ancient line of guardians with agility, super strength and lethal fighting instincts.

Just when life can't get any more disastrously crazy, Harper finds out who she's charged to protect: David Stark, school reporter, subject of a mysterious prophecy and possibly Harper's least favorite person. But things get complicated when Harper starts falling for him—and discovers that David's own fate could very well be to destroy Earth.

With snappy banter, cotillion dresses, non-stop action and a touch of magic, this new young adult series from bestseller Rachel Hawkins is going to make y'all beg for more."
I've heard so much about this book and finally decided to give in to the hype and give it a go.  I am so glad I did!  Most everything about this book was amazing starting with the cover.  It's just beautiful!
The plot was very good and well developed for the first book.  It had me hooked from page one.  I really liked how Harper's adventure started right away.  There was a lot to be explained in this scenario so if the author had added the typical setting stuff and getting to know the characters, it would have been really boring.
Going along with that, I think this is the first book I've read that's from the popular girl's perspective.  Typically, it's about a loner and how they're 'different' and then those differences end up being the entrance into their new world.  So I really liked the change.
Now for the romance.  It was… good.  It was definitely predictable.  Harper has the classic connection to the forbidden guy and she fell for him in such a predictable way.  It's like this – popular girl is dating popular guy, problems erupt because of popular girl's  secret life, forbidden guy is in on the secret life, girl falls for forbidden guy and leaves popular guy in the dust.  Can't get any more cookie cutter than that.  However I am willing to overlook it just based on the total originality of the plot.
I also really liked how Harper didn't end up to be the 'most important' or 'most legendary' in her screwy world.  That happens in so many YA books.  I would have liked a bit more explanation on the whole powers thing but maybe that comes in the next book?
Finally, I loved Dee, the whole Oracle idea, and the ending!
Final Verdict:
This was an all night read for me!  I loved the plot and the characters.  The romance was a bit predictable though.
"I picked up the nearest weapon I could lay my hands on: a stapler. I lifted it, going for "menacing." I admit it lacked a certain elegance, but hey. It was worth a shot. David placed his hand on my arm and pushed it back down.
"What?"
"Just . . . that's embarrassing for all of us," he replied." 
"The great thing about best friends is that they know you really well. And the terrible thing about best friends is that they know YOU really well." 
"Bruce Wayne's parents get killed and he goes to Tibet or whatever, and Superman is an alien, and Spiderman had that radioactive spider. Me? I kissed a janitor in the school bathroom." 
"Look at him. Whole life turned upside down, and he's in there making pizza rolls." 
"I know," I told him. "It sounds insane. It is insane."
His eyes fixed on mine. "You killed someone," he said, his voice barely audible. "With a shoe."
"He had a sword," I fired back and then, to my shock, David burst out laughing." 
"He and I had loathed each other since kindergarten. Heck, even before that. Mom says he's the only baby I ever bit in daycare." 
"Harper, did you just… did you just throw a pen at Liz?"
"Oh my gosh, no, Mrs. Ford! I was just… um… writing really fast because there was so much information to take in, and I had, like, some lotion? On my hands? Anyway the pen flew out of my hand and hit Liz" 
"Looking back, none of this would have happened if I'd brought lip gloss the night of the Homecoming Dance."