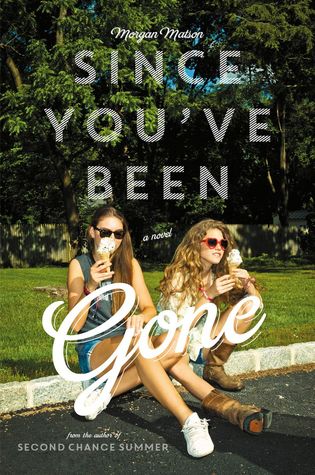 "

The Pre-Sloane Emily didn't go to parties, she barely talked to guys, she didn't do anything crazy. Enter Sloane, social tornado and the best kind of best friend—the one who yanks you out of your shell.

 

But right before what should have been an epic summer, Sloane just… disappears. No note. No calls. No texts. No Sloane. There's just a random to-do list. On it, thirteen Sloane-selected-definitely-bizarre-tasks that Emily would never try… unless they could lead back to her best friend.

Apple Picking at Night? Okay, easy enough.

Dance until Dawn? Sure. Why not?

Kiss a Stranger? Wait… what?

Getting through Sloane's list would mean a lot of firsts. But Emily has this whole unexpected summer ahead of her, and the help of Frank Porter (totally unexpected) to check things off. Who knows what she'll find?

Go Skinny Dipping? Um…"
This book was hilarious.  It sucks I didn't have the time to read it this summer because it would have been the perfect summer book!  Because, ya know, it takes place during the summer!
So.  I just loved everything about this book.  Now while I was reading it, I did have thoughts like "this is so unrealistic" and "wow I wish my summers would end up like this".  And I'm actually okay with the fact that this book was a tad unrealistic.  Because you know what?  I'd rather read about these out there stories than something boring and just so… normal.  I loved how everything about this book was 'normal' and yet it could only happen in a one and  a million chance.  Maybe even one in a trillion.  But that's okay to me.
If you love stories about finding your courage and love and life and new experiences, this is for you!
The ending was just so adorable!  A bit predictable and cliche and unrealistic, but like I said before, I'm totally okay with that in this book.
I loved the list idea and I kept referring to the back cover and crossing off the numbers in my head and keeping track of all the crazy stories.  I also really liked how the author incorporated the playlists!  
It was just the perfect little happy book.  Almost like
The Statistical Probability of Love at First Sight
.  It was exactly cotton candy fluff but it was like… a peppermint hard candy.  It was amazingly sweet but then during the end, Emily was impatient and bit too hard and there were shards that stabbed her mouth (and mine).
The Final Verdict:
I loved the whole list idea in this book and I actually did like the entirety of the unrealisticness (awesome words!).  It's an amazing story about a girl who finds her own way with the indirect help of her friend that mysteriously disappears.
5 stars
Quotes:
"I somehow knew that the particulars didn't matter. She was my heart, she was half of me, and nothing, certainly not a few measly hundred miles, was ever going to change that." 
"Real friends are the ones you can count on no matter what.
The ones who go into the forest to find you and bring you home.
And real friends never have to tell you that they're your friends." 
"It just gets hard, always being someone's second choice" 
"He looked right at me as he gave me a half smile. "You're the brightest thing in the room", he said. He lifted his hand from my waist, and slowly, carefully brushed a stray lock of hair from my cheek. "You shine".
My breath caught in my throat. People said those kinds of things about Sloane-not about me.
"What?" frank asked, his eyes on mine.
"Just…" I took a shaky breath. "Nobody's ever said something like that to me."
"Then they don't see what I see," he said." 
"In a well-ordered universe…"