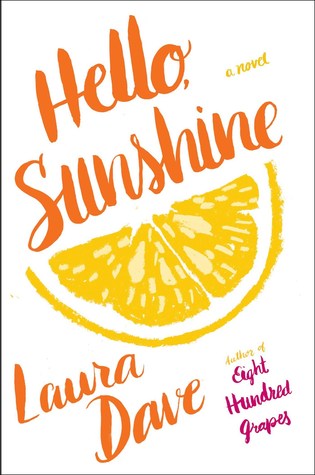 Standalone to date
"From Laura Dave—the author of the "addictive" (Us Weekly), "winning" (Publishers Weekly) and critically acclaimed bestseller Eight Hundred Grapes—comes a new novel about the secrets we keep…even from ourselves.

Sunshine Mackenzie has it all…until her secrets come to light.

Sunshine Mackenzie is living the dream—she's a culinary star with millions of fans, a line of #1 bestselling cookbooks, and a devoted husband happy to support her every endeavor.

And then she gets hacked.

When Sunshine's secrets are revealed, her fall from grace is catastrophic. She loses the husband, her show, the fans, and her apartment. She's forced to return to the childhood home—and the estranged sister—she's tried hard to forget. But what Sunshine does amid the ashes of her own destruction may well save her life.

In a world where celebrity is a careful construct, Hello, Sunshine is a compelling, funny, and evocative novel about what it means to live an authentic life in an inauthentic age."
Thank you to the publisher, Simon Schuster, for providing me with an arc review copy!  All opinions expressed in this review are my own.
I first finished this book last night and I was going to write a review immediately after but I just couldn't make up my mind on how I feel about this book.  On one hand, I loved it and couldn't put it down (I read it straight through in 2.5 hours).  On the other hand, the theme and ending slightly irritated me.  So let's get into it, shall we?
1.  The characters.  Generally speaking, I really liked the characters.  They fit the story well and had adequate development.  I do wish there was more on the husband, though.  It just seemed like there wasn't that much live-in background.  There was a lot of told background but it's biased toward Sunny because it's told from her perspective.  I enjoyed how the author decided to make one of the characters more nuanced with their decision to oust Sunny.  I think it was such a great choice and one that I didn't see coming!  It also served to make the book less about finding a villain and more about Sunny's introspection.  I also enjoyed reading Sunny's interactions with her sister, Rain.  Learning about Sunny's past and how it played into her current attitude about life was really interesting.
2.  The plot.
  The plot is true to the blurb it really was a
fascinating story
(exhibit A: I couldn't put the book down).  I do
wish there was a little more on what Sunny's life was like before the hack
(again, we get a lot of discussion flashback but not too many true flashback scenes).  The first two chapters also seemed to go on
forever
with Sunny's internal comments on what she should have done.  It's totally fine to open a book with that kind of talk but after 3 pages it gets kind of old.  The ending was also kind of unsatisfactory for me. 
The villain
was first presented as a cookie cutter, flat character.  Then, at the end, suddenly they become wake-up call/savior which I really wasn't buying. 
It was a lightswitch sort of change and it felt very orchestrated
.  I do want to say that I approve of the choice of villain, I just don't agree at all with their methods.  It was all just a little drastic and fantastical even if it did end the way it should have.  The middle, though, really shined.  I think once the author got warmed up, there was no stopping her. 
The development of Sunny's character through her struggles to find herself again is so well-written.
3.  The romance (or should I say lack-there-of).
  This is perhaps my
favorite part
of this own reading experience.  The author
chose not to clicheify the story and add in a new romance
after the fall-out of the hacker.  There was plenty of opportunity but it wasn't really acted upon.  I truly dislike it when authors add in unnecessary romance because they think it's necessary and I'm so glad Ms. Dave didn't fall into that trap.
4.  The theme.
  This was a
little weird for me
.  Since I'm on the very front end of the Gen X generation, I've grown up as technology has and I haven't lived a day without it.  The whole theme is centered around having an authentic life and whether it's possible to display it on social media without starting to curate your image. 
The message at the end of the book (as you can probably guess) is that it isn't possible which I would argue to the contrary.
  You simply have to recognize the difference between your work life and personal life and determine what you're willing to talk about and display on social media because you start sliding down a slippery slope.  Yes, we do live in an inauthentic age but I'm of the opinion that being inauthentic is a choice not a product of social media itself. 
In any case, I did enjoy the discussion but I don't necessarily agree with the conclusion.
This is a novel that raises good discussion points (even if I don't personally agree with the conclusions drawn) and has good middle development.  The edges of the book are a bit shaky but in the grand scheme of things, a truly enjoyable read.